Busan Food Journal, Part Four
Perhaps it's not surprising that we've had our most adventurous Korean meals when accompanied by Koreans. I think that locals enjoy pushing our boundaries — whether it's to introduce us to new foods, or just because they like watching us squirm. So far, we've only said "no" once — and that was when an overly enthusiastic Korean invited us to a restaurant serving dog. Silk worm larvae or twitching octopus? Fine. But dog meat is a step too far!
Food Journal: Part One | Part Two | Part Three | Part Five | Part Six
Bibimbap in Buk-su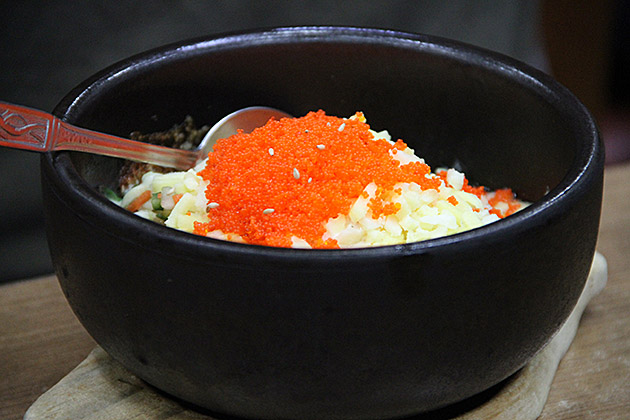 After a full day walking around the northern neighborhood of Buk-Gu, we were famished and in the mood for something simple and filling. And, lo, did Woojung's Bibimbap (??) appear before our eager eyes. This restaurant near the Deokcheon train station (location) serves great, no-nonsense bibimbap, and seems to be especially popular with students. [More Pics]
Yeongyang Dolsotbap (?????)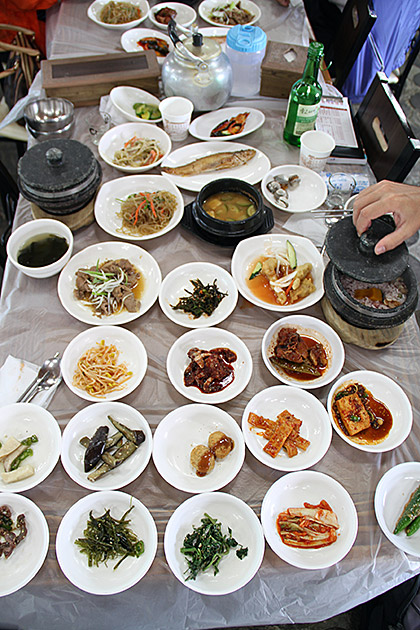 We grabbed one of the last tables in a large restaurant near the Haedong Yonggungsa temple (location), and allowed the waiter to suggest our meal. It's not like we could translate anything on the menu, anyway. Within minutes, our table was covered with bowls; as you can see, above, it was a ridiculous amount of food. And that was even before our main course was served: hot stone bowls of rice, mixed with black beans, ginseng and dried jujubes. After we had eaten most of the rice, the waiter added hot water to our bowls, making a rather bland-tasting rice soup. But after the crazy combination of twenty-four side dishes, a neutral flavor was exactly what we wanted.
Silk Worm Larvae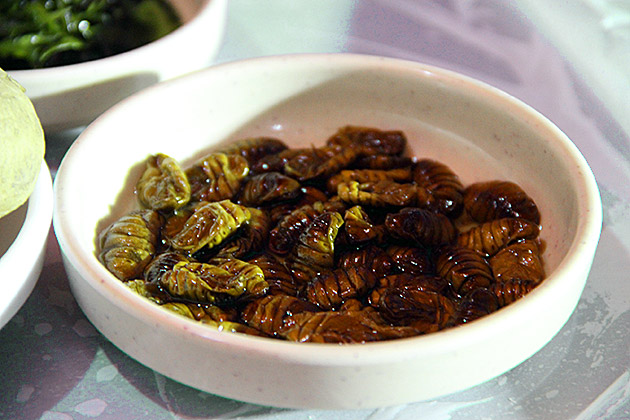 Mmmm, silk worm larvae have always been among my favorite snacks! Because I am a large, hairy spider, and after an exhausting day of weaving my web, nothing sounds better than kicking back and munching down the larvae of a silk worm. Wait a second… I'm not a spider at all, but a human being! So what the hell am I doing eating SILK WORM LARVAE?!
Pork BBQ at Don Pig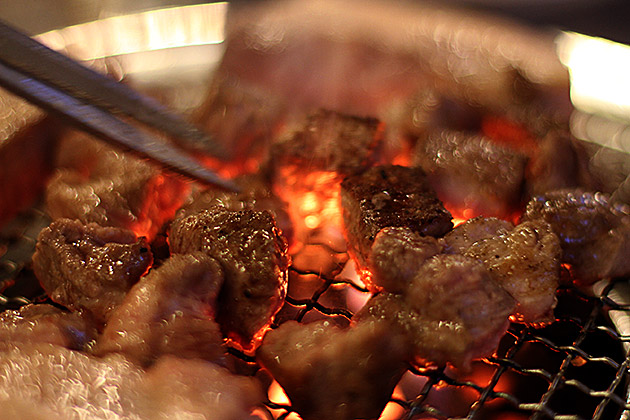 While we were wandering around Haeundae Beach looking for a place for dinner, we saw Don Pig and knew that our search was over. "Don Pig" is the best possible name for a restaurant and deserved our patronage for that reason alone. For a grill joint, the interior was squeaky clean… mainly because it had just recently opened. We got two fat cuts of pork and a ton of bacon, making for an absolutely delicious, and not entirely healthy, meal. Don Pig, ¡me someto a usted! [More Pics]
Lotteria Bulgogi Burger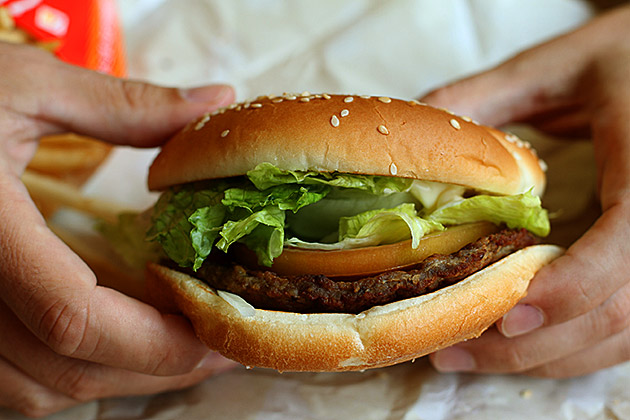 One of the most popular fast food joints in Busan is Lotteria, which is part of the ubiquitous Lotte corporation. One day, we stopped at the local branch for a quick lunch. (Give me a break, we had just eaten silk worm larvae, I think we can afford ourselves a little fast-food now and again). I ordered the bulgogi burger — basically a whopper with the meat slathered in delicious Bulgogi BBQ sauce. Not bad. And I noticed something odd: we live in Spain, and Lotteria means "lottery" in Spanish. Spain's most famous lottery is called El Gordo, which translates to "the fat one". And here I was, slobbering the juice of a Lotteria burger down my fat chin. I may never win El Gordo in the Spanish lottería, but I can become El Gordo in the Korean Lottería! [Another Pic]
Eel Grill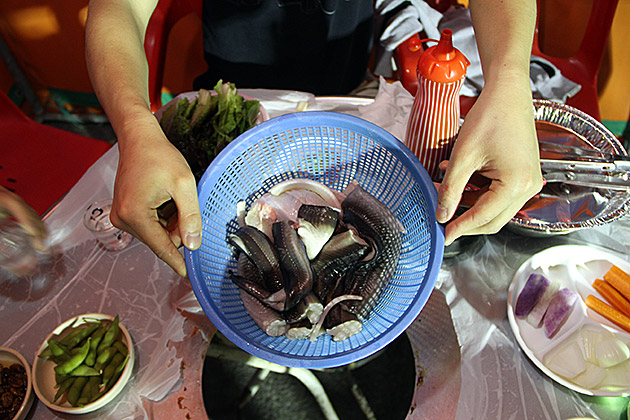 One of the coolest meals we've had in Busan was at a makeshift tent set up in a parking lot in Millak-dong, at the northeastern end of Gwangalli Beach (location). This is a place for locals, and we'd never have thought about sitting down if we hadn't been brought here by our friend. Seong-yeop took care of the ordering, and we were presented with a strainer full of fresh eel, which we grilled at our table. I've never had eel before and was shocked (not electrically) to find that it's delicious, especially after marinated in the spicy sauce that was served alongside it. [More Pics]
Duck Bulgogi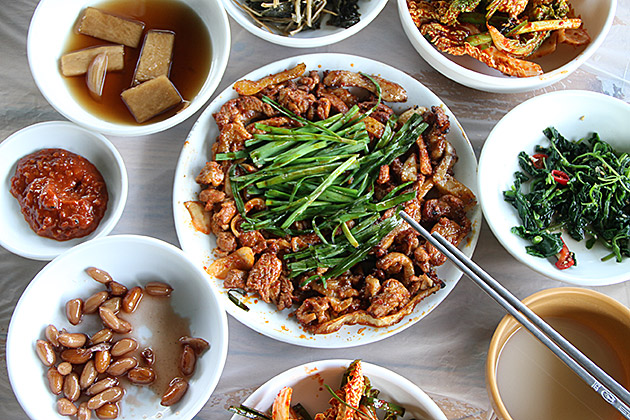 We showed up in Sanseong Village after about eight hours of hiking the Geumjeongsan Mountain, shivering with hunger. I had read that grilled duck was the specialty here. And since Mommy taught me to always be prepared, I had memorized the Korean word for duck: "pihada". The waitress came to take our order, and I confidently said "pihada", but she didn't understand. Eight hours of hiking! I was starving, exhausted, and quickly frustrated. Don't want to deal with STUPID LANGUAGE PROBLEMS. So, I tried saying "pihada" more angrily. She still didn't get it. So I yelled "quack-quack!"
"Ahh…" she said, her face flushing with sudden comprehension. "Duck!" In perfect English.