Though Christianity has recently become the dominant religion in South Korea, the country had been a primarily Buddhist land for nearly all of its history. Buddha's Birthday, which fell on May 28th in 2012, is a major celebration across the peninsula. And the week-long Lotus Lantern Festival which precedes it is an engaging reaffirmation of the country's traditional faith.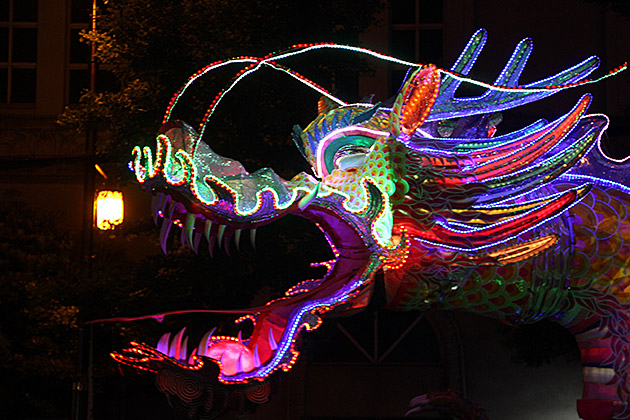 The festival kicked off with a host of events in Yongdusan Park, in Nampo-Dong. A collection of floats were on display — automated dragons, Buddhas, fire-breathing peacocks — and the park was packed with both monks and people out looking for a bit of fun. This wasn't the most somber or conservative of religious festivals; one of the events was a B-Boy break-dancing competition.
A group of tents in the park constituted the Arts & Crafts center and, walking past, we were immediately targeted for participation by an overly-enthusiastic volunteer. She sat us down next to kids, where we created toy lanterns. Then she grabbed our arms and led us the "ink stamping" section, where we pounded out Buddhist designs. Then she pushed us over to the "wishing ribbon" section, where we wrote down our names and our dreams for the future. "My name is Mike, and I wish for a world free from the scourge of Arts & Crafts!"
The festival-closing parade on Sunday night was a colorful event. We were surprised how few onlookers were lined up on Daechung Road to watch it pass, but then… most of the city was in the parade. Group after massive group of waving, lantern-carriers passed by, along with neon-colored float and the occasional marching band. We followed the final group up to Yongdusan Park, where there was a fireworks show followed by a concert of traditional drumming.