For 91 Days
we lived in Busan, the second-largest city in South Korea. This sprawling, exhilarating metropolis of 2,000,000 people has somehow managed to remain relatively unknown, despite having so many things to see and do. We had a wonderful time discovering Busan's cuisine, culture, history and beaches. Start reading
at the beginning
of our adventures, visit our
comprehensive index
to find something specific, or read one of the articles selected at random, below: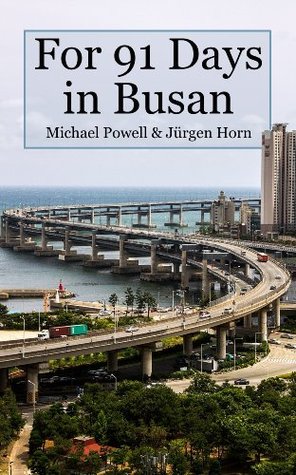 Our 91 days in Busan flew by, but we managed to see almost everything this incredible city has to offer -- the museums, the people, cafés, hiking, beaches, and of course the food! All of our experiences and observations are now collected in a portable e-book, perfect for Kindle, Nook or any other eReader. The book contains over 200 full-color images and nearly 100 articles about South Korea's second city, along with a useful index organized by both date and category. For just $7.99, this makes a great companion for your trip to Busan, whether you're a teacher or a tourist.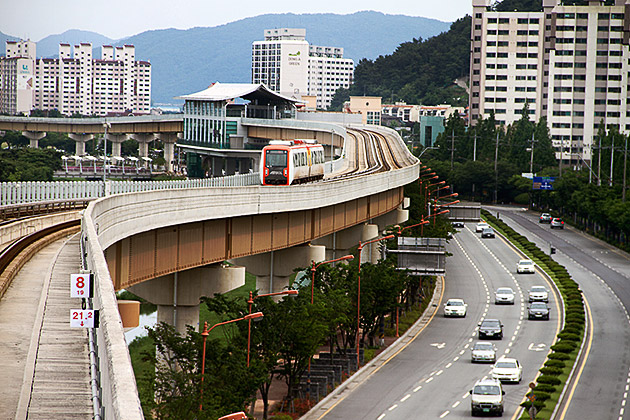 Okay, Busan's Light Rail Transit (also known as The Purple Line) isn't exactly as fast as light -- and I suppose that in this instance, "light" is used in the "not heavy" sense rather than "beams from the sun". Whatever, it's still a cool name for a cool ride.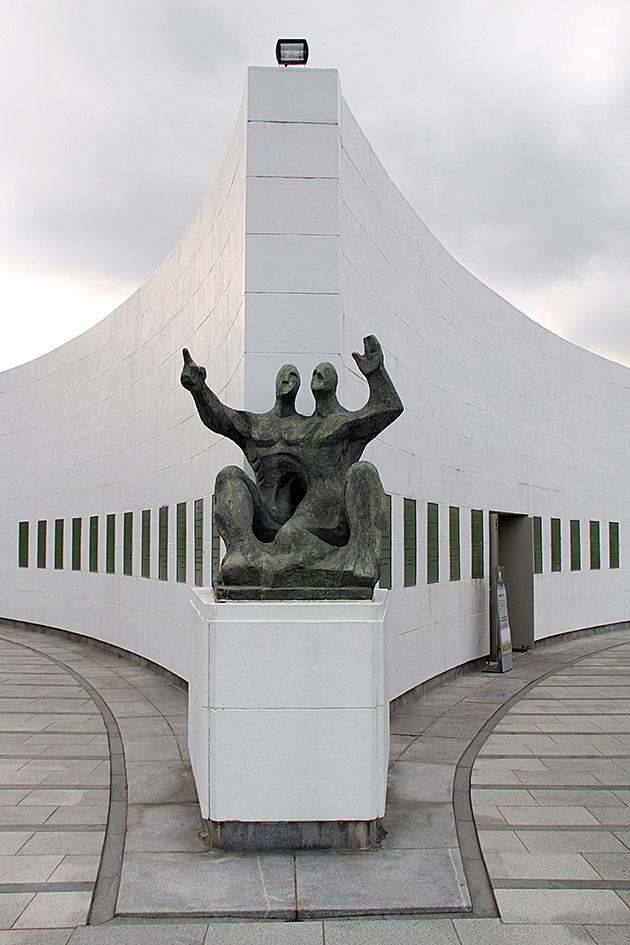 Hands down the most somber place we've visited thus far in Busan, the United Nations Memorial Cemetery pays tribute to the international brigade of soldiers who died defending the Republic of Korea against the forces of communism. Sixteen nations are represented here, and the cemetery is a melancholy reminder of the costs of war.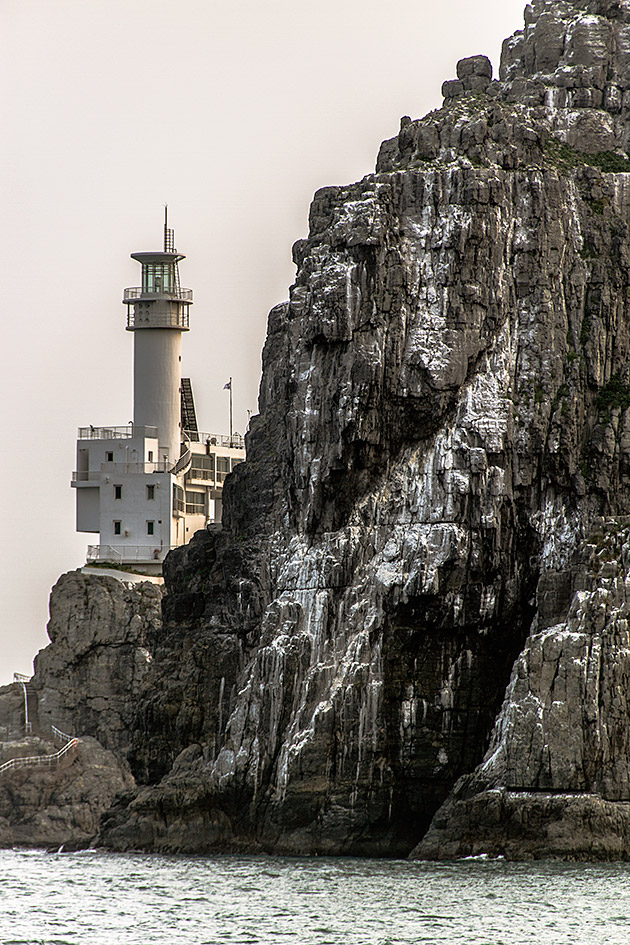 We first spotted the Oryukdo Islands toward the end of our hike down the coast of Igidae Park. A string of rocky and uninhabited landmasses, these islands are the most notable feature along Busan's coastline. In order to get a better look, we took an evening ferry trip which looped around them.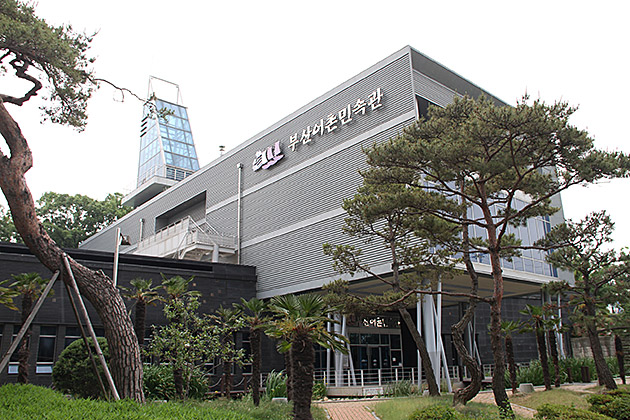 Buk-Gu, whose name translates to "Northern District", is one of the fifteen administrative zones which make up Busan. We spent a morning wandering around the area and checking out some of its touristic sights: the Fishing Village Folk Museum, a riverside park, and the Gupowaeseong Japanese Fortress.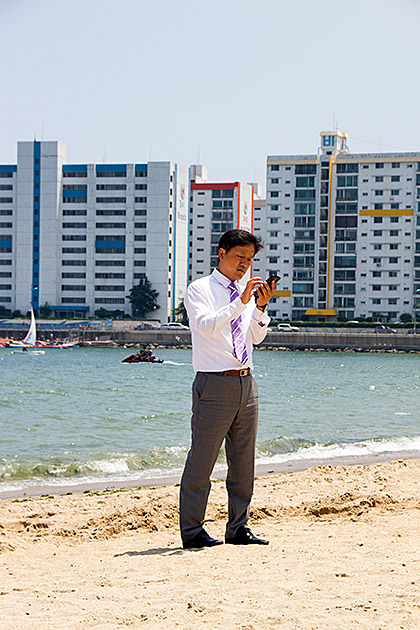 If you're not in one of the city's numerous spas, the preferred method of relaxation seems to be playing on your smart phone. On the subway, in the park, at dinner, walking down the street, while driving, while talking to your friends. At the beach. Busanites are plugged into their phones in a way that seems obsessive. But they always look like they're having fun, so who are we to judge?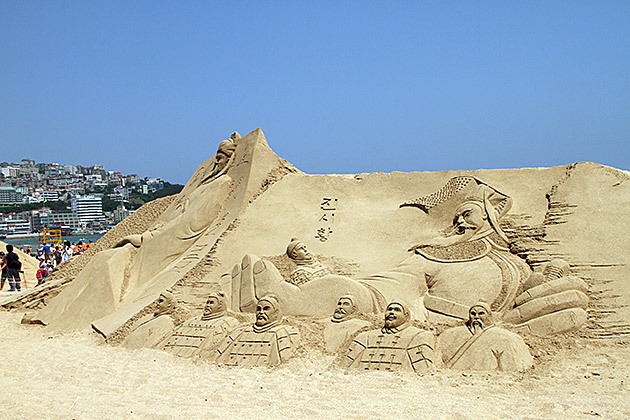 The beginning of the summer has hit Busan, and the city seems to be celebrating with a raft of festivals. There's the International Car Show, a River Sports Festival, an International Dance Festival, a Port Festival, and a Traditional Folk Festival... and this all in the first week of June! We felt a little guilty skipping out on all of them, so decided to check out the Sand Festival at Haeundae Beach.