For 91 Days
we lived in Busan, the second-largest city in South Korea. This sprawling, exhilarating metropolis of 2,000,000 people has somehow managed to remain relatively unknown, despite having so many things to see and do. We had a wonderful time discovering Busan's cuisine, culture, history and beaches. Start reading
at the beginning
of our adventures, visit our
comprehensive index
to find something specific, or read one of the articles selected at random, below:
Showing #11 - 20 of 96 Articles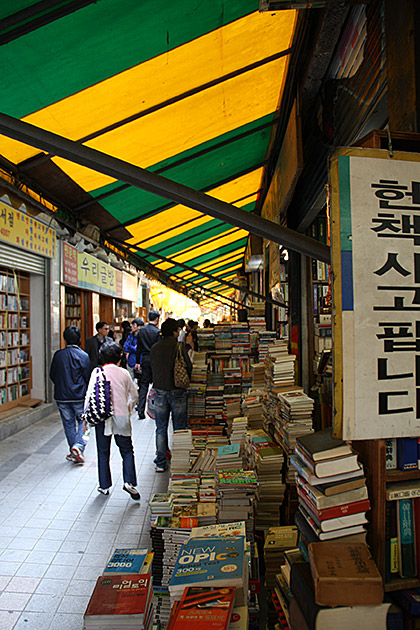 Not far from Eatery Alley, we discovered Bookstore Alley: a tiny road jam-packed with an insane number of used bookshops, cafes and shoppers. With a history going back 50 years, this is one of the coolest corners we found in Busan, and a great place to spend a spare hour... even if you don't read Korean.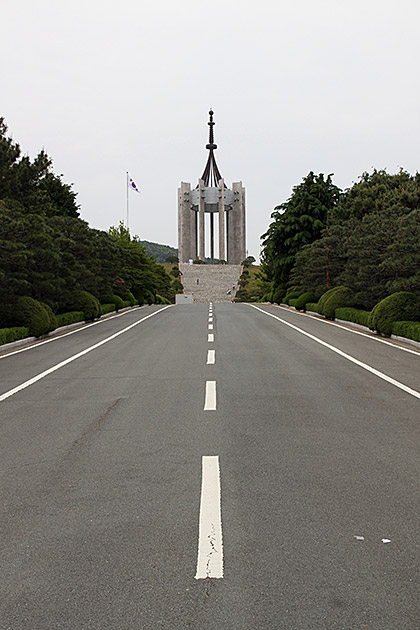 Set atop Daecheong Mountain, one of Busan's most central peaks, Jungang Park offers visitors an unparalleled view over the city and its port. Inaugurated almost twenty years ago, the park and its crowning Chunghon Tower are dedicated to the memories of the service personnel who gave their lives in the Korean War.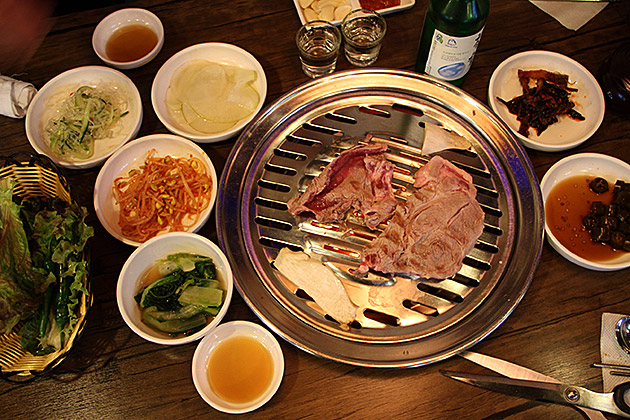 Early on, we started to learn how to pick out some of the Korean words for foods we especially liked. Bibimbap is easy, mostly a lot of "b"s strung together (비빔밥). And we could quickly identify both bulgogi and kalguksu. But we weren't out of the woods yet! On one Saturday night, we sat down a popular place in Seuyoung and only realized at the last minute that they serve strictly intestines. Props to the English-speaking kid at the neighboring table for warning us!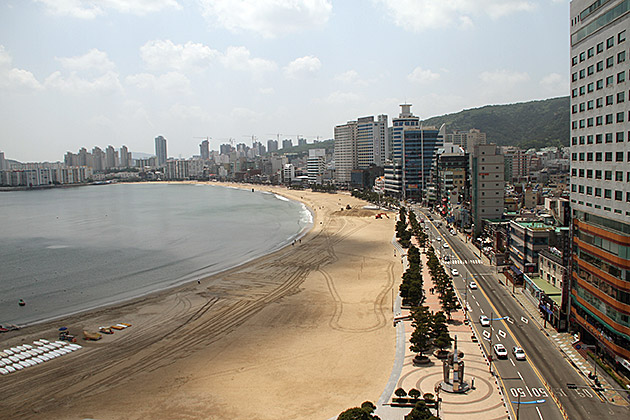 Crescent-shaped Gwangalli Beach is one of the most popular hangouts in Busan, offering fine sand, good swimming, and an exorbitant number of cafés, restaurants and bars. We were lucky enough to call it home for three months and spent a lot of time on the its entertaining promenade.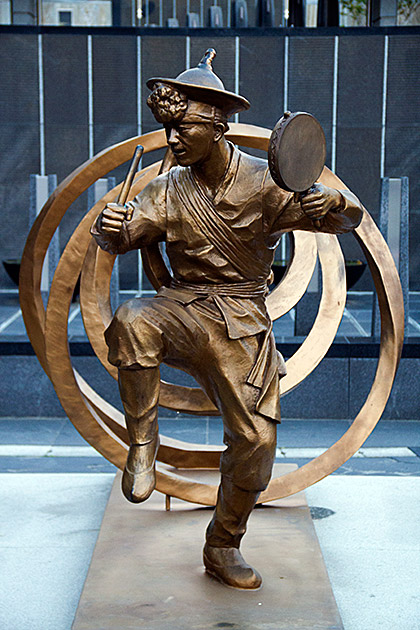 The Busan National Gugak Center opened in 2008 with the mission of bringing Korea's culture to the masses. We went to an incredible Tuesday night performance which introduced us to some of the peninsula's traditional music, dance and drumming.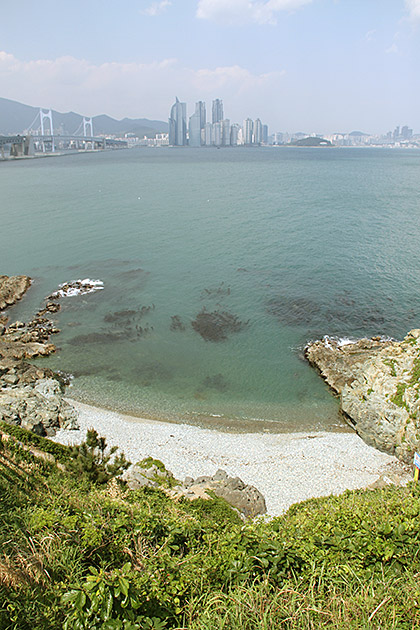 The mountains and hills of Busan are easily its best feature, both helping to confine the city's sprawl and offering parks and natural refuges for residents to escape the stress of everyday life. Among Busan's wide range of nature walks, the one spanning Igidae Park is among the most popular. We hiked along its 5.2 kilometer coastal trail on a sunny afternoon.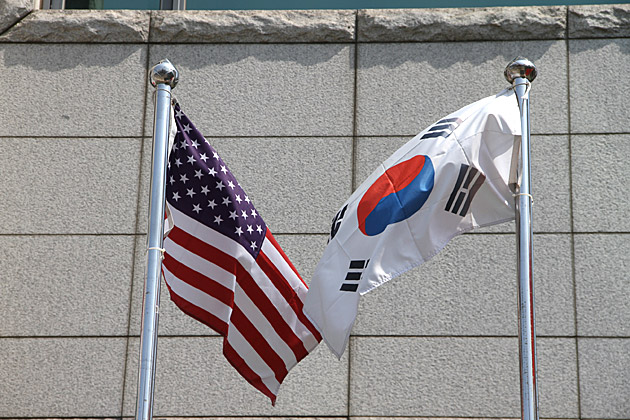 Since the end of World War II and the liberation of Korea from the Japanese occupation, the USA has maintained a steady presence in the southern half of the peninsula. Perhaps it comes as no surprise, then, that South Korea has inherited many aspects of American culture, from the world of pop music to its dynamic sporting scene. During our short time here, I've found myself amazed by the similarities between my homeland and our temporary host. And to be brutally honest, a lot of the greatest things about America seem to even better in South Korea...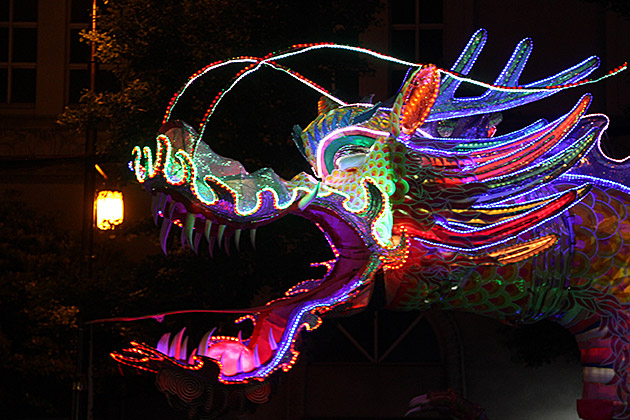 Though Christianity has recently become the dominant religion in South Korea, the country had been a primarily Buddhist land for nearly all of its history. Buddha's Birthday, which fell on May 28th in 2012, is a major celebration across the peninsula. And the week-long Lotus Lantern Festival which precedes it is an engaging reaffirmation of the country's traditional faith.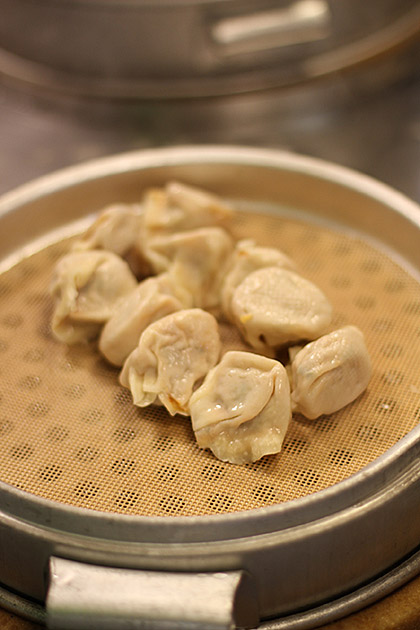 Dumplings, soju, grilled ribs, stews, chicken and lots of kimchi were on the table this week. It took us a few weeks to start to get the hang of Korean food, discover what we love, and what we don't. For Part Three of our food journal, we mostly concentrated on restaurants around our neighborhood, Suyeong and Gwangalli Beach, but these dishes can be found on just about every corner of Busan.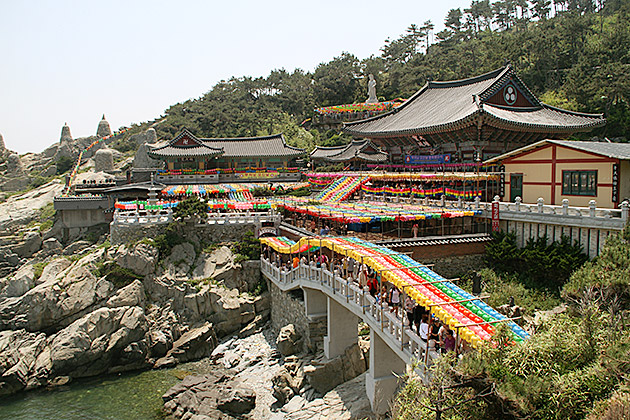 Haedong Yonggungsa (해동용궁사) is unique among Busan's Buddhist temples in that it lies not in the mountains, but on the seafront. It was founded in 1376, during the Goryeo Dynasty, and completely destroyed during the Japanese invasions. Though the current construction only dates from the 1970s, the temple is a beautiful and much-beloved center of worship. In fact, I can't imagine it being any more popular.