Occupying a gorgeous swath of forested hill country about eight kilometers outside Gyeongju, the Yangdong Folk Village preserves the buildings and customs of Korean life during the Joseon Dynasty. In 2010, this historic village was named a UNESCO world heritage site.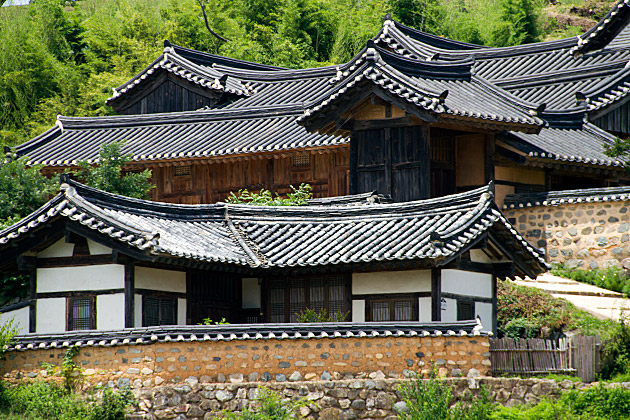 Yangdong was founded at the beginning of the 15th century by a member of the Joseon nobility, who selected the site based on the Korean practice of pungsu — a superstitious reading of the earth which identifies geologically significant areas: those featuring patterns in natural formations such as hill shapes or river paths. The modern day village, with around 150 tiled- and thatched-roofed houses, still looks almost exactly as it did centuries ago.
Our visit began at Yangdong's only restaurant, where we enjoyed a bowl of Kongguksu (wheat noodles in a cool soy milk broth) and had the chance to shake hands with the village chief. The other guests, who generously shared their rice wine with us, were listening attentively to the chief's stories and there seemed to be an unspoken expectation that we do the same. Of course, we didn't understand a word but stayed respectfully quiet and followed the group's lead with an occasional chuckle or "ahhhh".
Yangdong is surprisingly large and feels more alive, less like a museum, than I figured it would. Reconstruction and preservation efforts were underway all over, and we took a random, looping path through the hills. The Joseon Dynasty practiced Confucianism, which placed a strong emphasis on class distinction, and Yangdong's layout reflects this; the aristocrats lived in the larger houses with tiled roofs, set on top of the hills. Commoners had houses with thatched roofs, found lower down.
With its rural forest setting, the nearby river and roads which follow the natural slopes of the hills, Yangdong Village is unquestionably beautiful. Our visit here was one the highlights of our trip to Gyeongju.
Location of Yangdong Folk Village on our Map
–Our Sri Lanka Book Just Got Published