A man-made pond in the middle of Gyeongju, Anapji has been impressing people for over thirteen centuries. We strolled along the pond while the sun was setting, when the park is at its most gorgeous.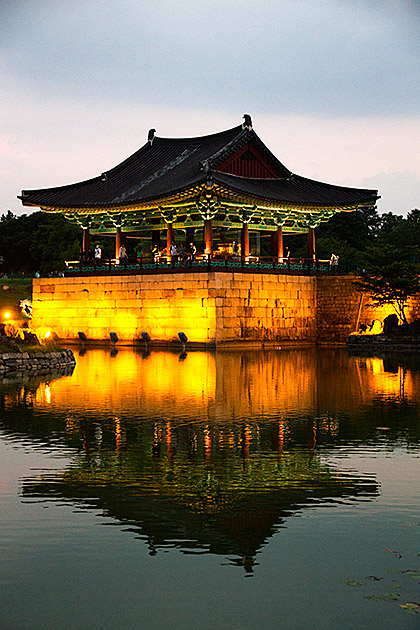 Anapji was built in 674 by the great King Munmu of Silla, who used it as a pleasure retreat from his nearby palace. The lake fell into disrepair after the fall of Silla, but was completely recovered and restored to its original state during the 1970s.
Five traditional pavilions surround the pond, which is now enclosed by stone walls. At night, the lights come on, bathing the woods, water and pavilions in beautiful color. This is the most popular spot in Gyeongju for a nighttime stroll; we were shocked by the line of people waiting to get into the park. Definitely worth penciling into your evening plans when you're in the city.