The Hike to Songjeong Beach
Travel Insurance – Sign Up Online
At the far northeastern end of Busan, Songjeong Beach is a more beautiful and far less popular stretch of sand than the city beaches of Haeundae or Gwangalli. Although you can get there with bus or taxi, the best way to arrive is over a gorgeous three-kilometer hike through the woods.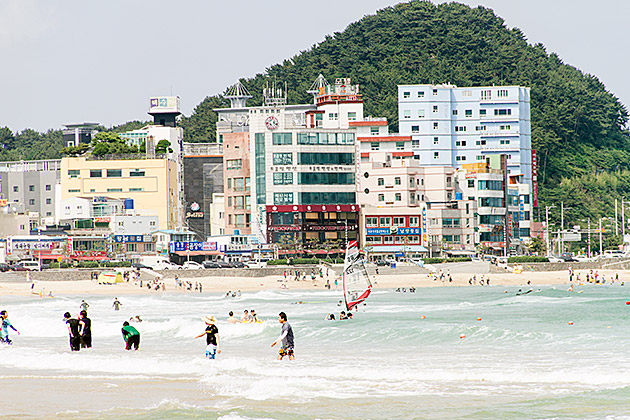 The hike begins near the Jangsan metro station and, like all walking trails in Korea, is well-marked and easy to follow. There's some workout equipment along the way, but the real reason to tackle the hike is for the amazing views over the sea and the forest valley.
Halfway through, the peaceful silence we'd been enjoying was interrupted by an outlandishly loud alarm coming from somewhere down the coast. After it had sounded for a few minutes, a woman came on the loudspeaker, saying something in Korean. We waited hopefully for an English translation, but it never appeared. And then, the alarm again for at least five minutes. We were all alone in the woods, unable to judge the reactions of others. Were people in the city running in panic for the nearest bunker? Had North Korea pressed the big red button? Had the woman provided instructions on surviving the imminent nuclear holocaust?
Eventually, we saw a family hiking on the trail, at a calm, un-panicked pace. The Korean government tests the alarm system about once a month, bringing all traffic to a standstill, and this must have one such time.
Songjeong Beach awaited us at the end of our hike. Unlike the city beaches, there were no other foreigners here, just big groups of college-age kids playing organized games, and throwing girls into the water — with somewhat more brutality than we Westerners employ. We watched them for awhile, waving off their attempts to get us to join in, and walked to the end of the beach.
A small, wooded peninsula called Jukdo Park caps the beach, providing a shaded relaxation area and a pavilion for views which stretch out over the sea and back towards the beach. There's less development here than at Busan's other beaches, and the result is a much prettier panorama. So far, this is one of our favorite spots in the city, and definitely worth the effort of reaching. And if you're not feeling up to the short hike, a taxi from Jangsan costs about $2.50.