The Dadaepo Sunset Fountain of Dreams
I'm not sure which is more audacious — billing yourself as the "world's best and biggest fountain", or calling yourself the Fountain of Dreams. Big words, Dadaepo, and you've set the bar high. Would your musical show of color and water be the "magnificent and dynamic banquet of light" which your website promises us? We expect no less!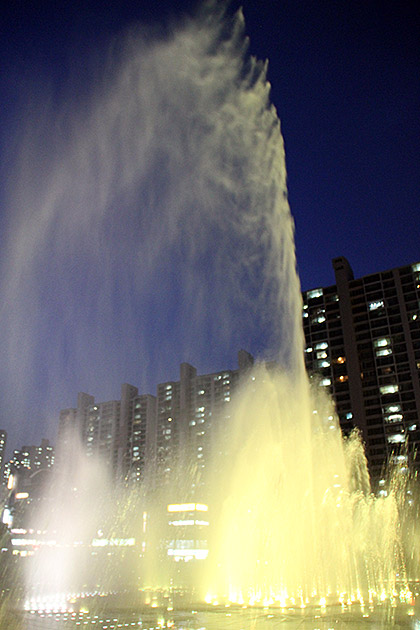 Actually, the show was pretty good. I'm not saying it was life-changing or anything, or that I was whispering under my breath, "Finally I have found the fountain of my dreams", but I was reasonably entertained. And one can't expect much more from colorfully-lit water splashing to the beats of Andrea Bocelli.
Around the huge, circular fountain, 60-meters in diameter, all the seats were packed full. Mostly, it was families with young kids, like the group seated next to us. The mom was pestering her son to practice his English on us, which was fine with me, since he kept giving us his potato chips for another instructive exchange of "thank you", "you're welcome".
Before the show began, we had a chance to check out Dadaepo Beach: a beautiful stretch of sand overlooking a peninsular park. This section of town, on the far southwest of the city limits, is a lot more popular and interesting than I had figured during the interminable train ride here, and we promised to return.
–Download our Travel Books Here