The Streets of Daeyeon-Dong
A narrow section of streets in the central neighborhood of Daeyeon separates Kyungsung University from Pukyong University. Perhaps it's unsurprising that this neighborhood, packed full of students and the establishments which cater to them, is among the most exciting in the city.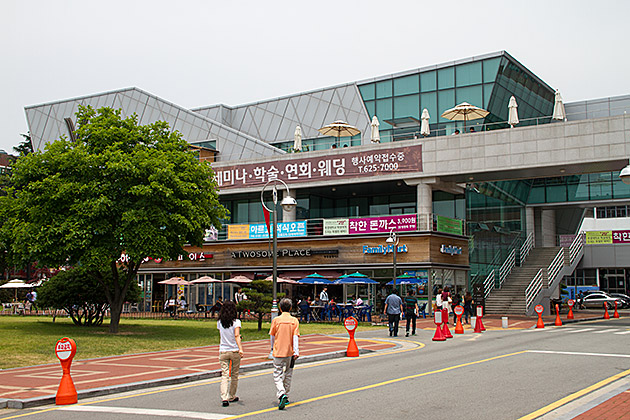 Cool restaurants and vintage clothing shops compete with bars, soju halls and a never-ending selection of cafes for the attentions of the students who live and study here. This area is one we keep returning to whenever we're searching for a good, cheap lunch, or a fun night out. And we always discover something new, whether it's the hard-to-find "Culture Alley" — with its galleries, modern sculptures, restaurant and theater — or a fun new place to eat. Last time, I went up three floors to what I thought was an anime store, only to discover an awesome Japanese Bento restaurant, instead.
Pukyong is the larger of the two universities, with about 26,000 students and a focus on marine sciences and ocean engineering. Kyungsung, to the north, was established in 1955 as a Christian Teachers School, and matured to a general university in the 80s. We've only seen the campus of Pukyong so far; decently secluded and peaceful for a city college.
With the well-documented pressures of the South Korean education system, it's nice that the students of these two universities have a fun neighborhood to hang out in. And it's nice for us, too!
Location of the Culture Alley on our Map