Everything You Need To Know About Night Photography
The Gwangan Bridge opened in 2003, connecting the neighborhoods of Haeundae and Suyeong, and instantly became one of the city's most recognizable landmarks. Also referred to as the Diamond Bridge, it's a beautiful structure, especially after dusk when brought to life by colorful lights.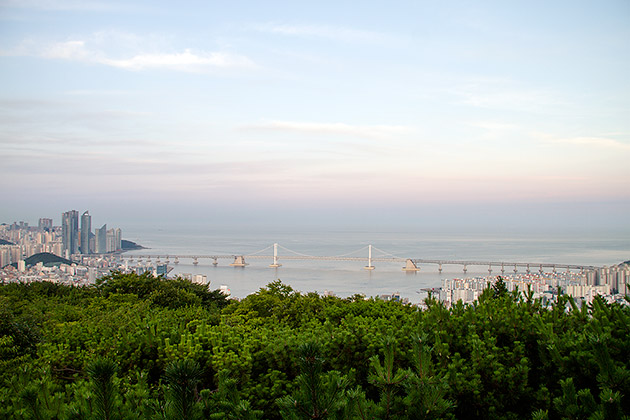 After a night on the town, it's something of a tradition of ours to grab an ice cream and sit on Gwangalli Beach, to look at Korea's second-longest suspension bridge. Sounds kind of lame, bridge-watching, but somehow it never gets old. The lights of the bridge change color and reflect beautifully in the water. When the night is pleasantly cool and you've just put another busy day behind you, there's no better way to wind down.
Apart from the beach, the best spot to appreciate the bridge is from the astronomical observatory on Geumnyeonsan Mountain. A cheap taxi ride from the Geumnyeonsan Metro station will take you there, and the views from the observatory over Gwangalli Beach and Suyeong are unparalleled. It's also a good area for hiking during the day.
I suspect that, years from now, when I think back on our time in Busan, the Diamond Bridge will be the first image that pops into my mind.
Location of the Mt. Geumnyeonsan Observatory
–Hotels With Great Views in Busan