The Traditional Korean Tea Ceremony
As we were saying goodbye, the instructor continued to praise our skills. "You did so very good! Very talented at pouring tea, the traditional Korean way!" We sheepishly accepted her acclaim, but I knew what she was really thinking. "Get these clumsy oafs out of my sight, so that I can finally start laughing my ass off!"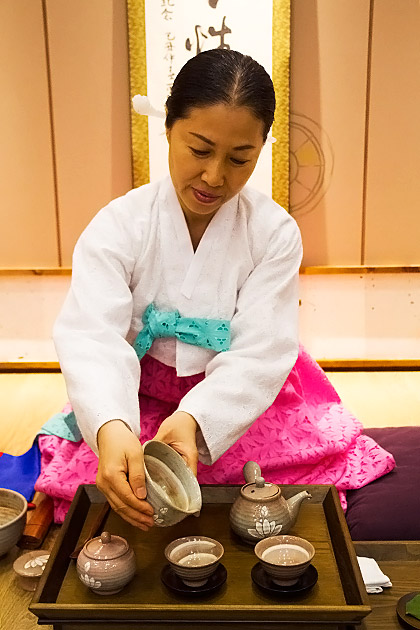 The Tea Ceremony Experience is offered for free, three times a day (except Fridays and Mondays), in the Busan Museum's Cultural Center. Our instructor, who was geared up in a hanbok (a traditional Korean dress), motioned for us to take seats in front of trays on the ground. Sitting Indian-style doesn't present a problem for me, but Jürgen's 6'6″ frame and lanky legs always require a couple minutes of painful twisting. The instructor looked on patiently while he arranged his body into the correct position. "Clearly", she must have been thinking, "this lesson will present more of a challenge than usual".
For the next twenty minutes we learned the procedure of a traditional Korean tea ceremony. Every movement is completed very particularly, from raising the napkin off the tea set and folding it, to pouring the water into the teapot. We were expected to be very calm, very exact; our instructor told us that the whole process is a form of meditation. While pouring and drinking the tea, you remain silent and still, concentrating on nothing but the simple tasks at hand, trying to complete them as perfectly as possible.
After three rounds, we were almost able to complete the ceremony without a mistake: grabbing the cup with the wrong hand, pouring out too much water, or laying the napkin on the floor upside-down. Our instructor was pleased enough, and after the torturous spectacle of watching Jürgen disentangle his legs and stand up, we said our goodbyes. I doubt I'll be working a tea ritual into my daily schedule, but I can certainly appreciate the moment of collected quiet that it provides. And the tea wasn't bad, either.
Make Reservations by Phone: 825-1610-7156