Korea's Love Motels – For More Than Just Sexy Time
So-called "love motels" are ubiquitous in Korean cities, and exist primarily to provide couples a secretive, swanky place to hook up. But as we've discovered, they're also a valid option for budget accommodation, for those who are more interested in sleep than sex.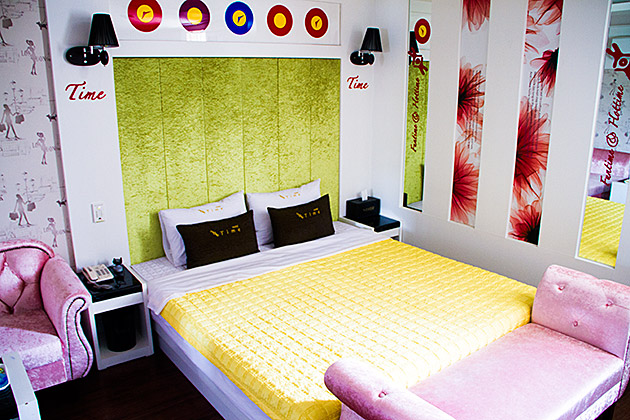 We checked into Motel Time after an exhausting day of sightseeing around Gyeongju: our first day trip outside of Busan. In case there was any doubt as to the motel's intended purpose, the walls were decorated with pictures of lingerie-clad women and slogans reminding us that "Motel Time" was for "Sexy Time, Hot Time, Love Time, Fun Time". The front desk was behind an opaque window so that the woman checking us in couldn't see our faces. Anonymous Time.
Our room was insane. Laser lights, mirrors everywhere (including the ceiling), a giant HD television, a computer, triple-pane soundproofed glass, robes to change into and look sultry in, a full set of cosmetics like hair gel and deodorant, a récamier and, naturally, a two-person whirlpool bath. If I hadn't spent the last twelve hours hiking around the city, I'd have whipped my clothes off and started humping everything within reach.
Aversion might be the proper reaction to the idea of sleeping in a motel primarily intended for lovestruck teenagers and married men on liaisons. But unless you're willing to sleep on a floor mat — as you would at most normal Korean guesthouses — or shell out big bucks at a Western-style hotel, love motels are among your best options. They're clean, comfortable, affordable and, hands down, the most fun.