The Brilliance of the Yogi-Yo Button
Of all the technological marvels we've seen in ultra-modern South Korea, only one has completely wedged its way into our hearts: the Yogi-Yo button. Found on tables in many of Busan's restaurants, it is utter, blissful genius. Press it, and your waiter appears like magic. Leave it unpressed, and you're left alone.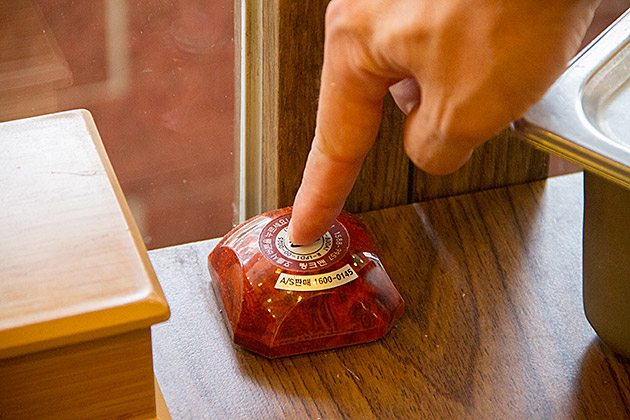 There are plenty of advancements in Korea which the USA could sorely use. Bullet trains. Affordable, first-class health care. Efficient public transportation. A low crime rate. These are all important, to be sure, but if I could bring just one thing with me back home, it would be the Yogi-Yo button. My lord, do we need this.
"Yogi-Yo" approximately means "Hey, over here"! It's what you would shout in a Korean restaurant to get your waiter's attention. But with the Yogi-Yo button, you don't even have to shout. If you want another bottle of soju, you don't wait patiently for your server to come by. You just press this magical button and she'll come running.
Our first few times eating out, we were too shy to actually use the Yogi-Yo button. It felt too pushy, and I've been conditioned by my American upbringing to treat waiters with meek politeness, rather than as the servants they are (heh, that little quip ought to win me some spite!) But now, in our third month in Korea, we press the Yogi-Yo button without hesitation. Sometimes, I'll gobble up all the kimchi, not because I'm extra-hungry, but because I want to hit the button again and watch the waitress come scurrying.
Yes, the Yogi-Yo button must enter the American dining scene as soon as possible. And while we're at it, we should also import Korea's tipping policy. That is: no tips ever, not even pocket change. America's waiters have gotten a little too entitled in the past decade. 20% now standard?! Yeah, I don't think so. "Yogi-Yo, buddy. Get me another beer and, no, I'm not going to pay you extra for doing it". That's the way it should be.
---
All joking aside… after over ten years living outside the US, I find our tipping culture to be horrifying. Twenty percent is absolutely ridiculous, and found nowhere else in the world. It's out of all proportion — the staff is simply performing the service they're being paid to perform. Customers should expect to receive good service regardless of the "tip". Am I right? And sure, waiters earn a pittance, depending on tips for their real wage — but how is that my fault? Restaurants ought to pay their employees correctly. After so much time living in other countries, the idea of paying somebody extra just because they carried food to my table seems completely insane.