The National Maritime Museum
Busan is always at work on itself, more so than any other place we've lived, erecting new buildings, improving on its image and expanding its cultural offerings. We visited one of the city's latest achievements just days after it opened: the National Maritime Museum.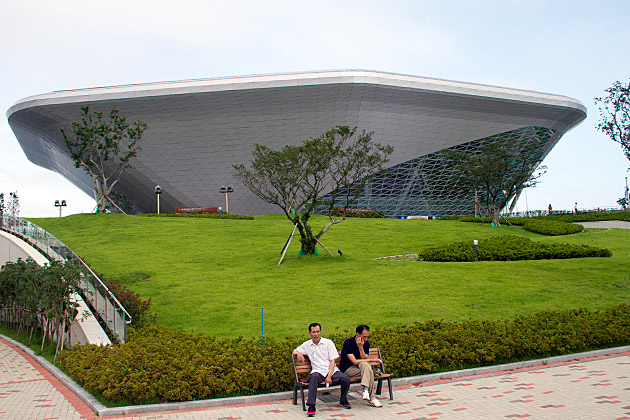 The gleaming white building itself is impressive enough to warrant a visit. Found on the northwestern coast of Yeongdo Island, it looks a little like an enormous toilet bowl. Not a very appealing comparison, I suppose, but I don't mean to be negative — that's just its shape! Plus, there's the association with water, and the fact that it's filled with all sorts of crap.
The museum and the park surrounding it occupy nearly 500,000 square feet. There are eight permanent exhibitions, a special children's museum, a rooftop observation deck, a massive maritime library, a walk-through aquarium, a 4D theater, an auditorium and a variety of restaurants and cafes. In other words, don't go expecting to spend just a short amount of time there — even if you're quick about it, this place will consume hours.
Amazingly, the museum is free. The exhibits are uniformly interesting, detailing both Korea's relationship to the sea, as well as the global situation of the oceans. The aquarium was small, but there were a few sharks and mantas swimming around in there, which are the only things I ever care about anyway. And the hands-on exhibits were fun, especially for children. Perhaps the best part was the rooftop observation deck, where you have a great view over the harbor and the Oryukdo Islands.
The museum is easy to reach with public transportation; bus #66, leaving from Nampo-dong (exit 6) goes straight there. And it's definitely worth the effort of visiting.