Busan's aquarium is one of the largest in South Korea. With a unique location underneath Haeundae Beach, and a vast array of marine life in tanks which hold over three million liters of water, it's little wonder that the aquarium is considered one of the city's top experiences.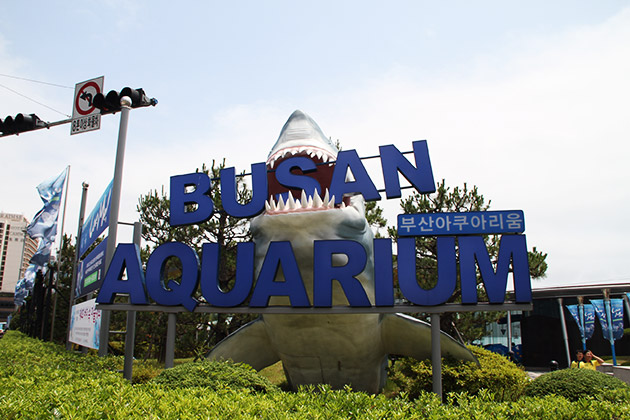 More than the sharks, penguins, otters or jellyfish, there's one wild species which stands out in the aquarium: the Human Child. This unpredictable creature travels in schools of up to thirty, and emits high-pitched squeals to communicate with others in its pack. Though harmless in appearance, this animal can be dangerous; using its diminutive stature, it will often hide itself near your legs. Should you unwittingly kick it, the creature will unleash its hideous sonic cry.
When we visited, there were at least nine separate groups of toddlers in the aquarium. Very cute, but they seriously hindered our appreciation of the exhibits. I mean, I'm not going to shove the three-year-old away so that I can gawk at the soft-backed turtle. (I might nudge her, though). And we could forget entirely about the special shows, such as the shark- or penguin-feeding.
Children aside, the aquarium was cool. Not as large as I'd expected, but there was a lot to see on its two floors. The tanks were made of spotless acrylic glass, perfectly-lit, and easy to see into. The exhibits were well-maintained, the water was clean, and there was plenty of information in English. The massive main tank is reached through a glass tunnel, and holds giant sharks, beluga whales, and a variety of fish which apparently don't taste good to sharks.
Our favorite exhibit was the jellyfish room, with a huge collection of them held in colorfully-lit tanks. I'd never heard of the Upside-Down Jellyfish, before. Other favorites included the giant octopus, the sea horses and a section called "Dangerous Fish of the Ocean".
At ?19,000 ($17.10), the aquarium isn't exactly a bargain, but for anyone with an interest in the marine, it offers an interesting and well-designed experience.