For our first trip to a Korean spa, we choose one of Busan's biggest and most modern: Spa Land in the Shinsegae department store. Twenty-two baths, thirteen distinctively-designed saunas, relaxation rooms, steam rooms, foot baths and more were ours to enjoy for four blissful hours.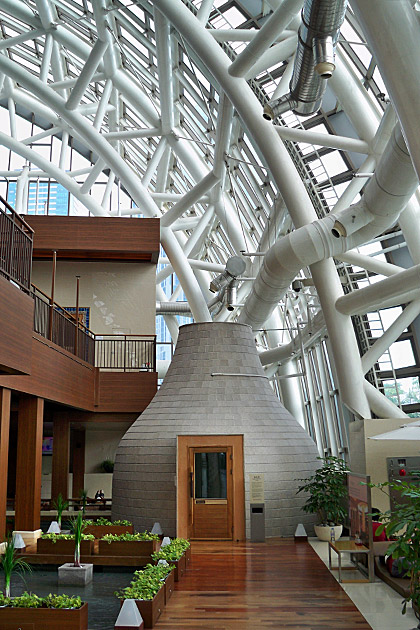 The jjimjilbang (as bathhouses are called here) is an essential part of life in Korea, found in every neighborhood, and popular with people of all ages. Most are open twenty-four hours a day, and offer Koreans a place to recuperate from the pressures of everyday life, bathe and clean, meet with friends, and even sleep. I don't know what took us so long to finally visit one…
Oh wait, yes I do. I know exactly what took us so long: the nudity. I was just completely put off by the thought of disrobing and walking around naked in front of others. Jürgen might be from sexually-enlightened Western Europe, where people whip their clothes off at any opportunity, but I'm a good old-fashioned American prude, taught to be secretly ashamed of my body and hide it jealously from peering eyes. Public nudity is something I just don't do, unless absolutely compelled. Like in prison. And, as we paid and then entered the changing room, that's kind of what I felt like — going to prison. I was very distressed.
I'd love to report that my fears were unfounded and that, upon disrobing, I discovered the liberating joy of being naked among others. But… nope. It was uncomfortable, and Koreans have no problem with staring. I'm sure that it's just the novelty of a foreign body, but we felt penetrating, curious eyes on us every time we walked over to another tub. But although I was constantly aware of it, I did eventually relax and was able to enjoy myself.
How could I not? The first room was gender-separated, and had around eight separate baths of sodium bicarbonate (for the skin) and sodium chloride (for the blood), heated to various degrees. Some had whirlpool bubbles, while others were still and serene. We switched from baths to saunas. There was a variety of styles to choose from, including Finnish (with wooden benches and suffocating heat) and Roman (with thick steam and a circular tiled bench… and naked Korean dudes staring at you).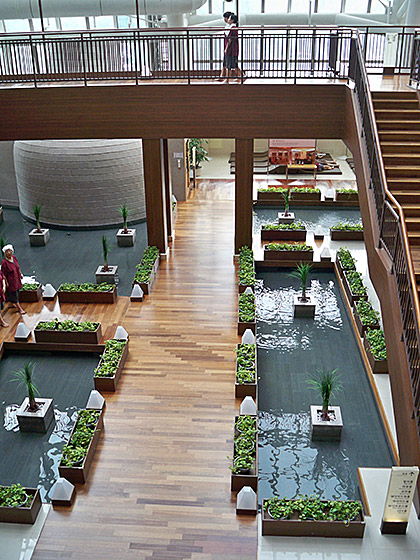 After showering off, we put on comfortable brown shirts and shorts which made us look like monks, and went into the gender-mixed area. Here, a variety of saunas awaited us. We tried the 52° "Pyramid Room"; according to the description, 52 degrees is the "easiest angle to collect energies from universe". We laid down in the Hamam Room, which recreates a Turkish bath house and the "Body Sound Room" which is "based on the principle of bone conduction", whatever that is. My favorite was the Yellow Earth Room, which is apparently good for mental stability.
In each of these steam rooms, we sweated like crazy, and took breaks between each in the pleasantly cool main hall, which had cozy chairs to lay upon. Perhaps more than anything else, I was most surprised by this aspect of the jjimjilbang — that people come here just to sleep. Everywhere you looked, people were snoozing; on the chairs, laying on the floor and (perhaps dangerously) in the steam rooms themselves. There was an entire section called the "Relaxation Zone" with at least a hundred recliners, each with its own personal TV. So many people were here, sleeping, watching soap operas or playing on their cell phones. Basically doing the kinds of things which Americans do at home.
We stayed at Spa Land for the maximum four hours permitted. Although I wouldn't have wanted to remain any longer, it's a restriction most jjimjilbangs don't have — usually, you pay the entrance, and stay as long as you want. I've read that many families even spend the night, for the healing properties of sleeping on a hot, hard floor.
The price was fantastic. Regular entrance is ?12,000 ($10.80), and we had coupons (available at Shinsegae's Information Desk) for an additional 20% off. Four hours of first-class spa treatment for less than $10 is a crazy deal. And now that we've tried it out, we're already looking forward to discovering Busan's other jjimjilbangs.