Shinsegae – The World's Largest Department Store
We hadn't even discussed it with each other, it was just understood. An unspoken contract between me and Jürgen, sealed the very moment we learned of its existence: the first place we would visit in Busan, before any temples or museums or beaches, was going to be Shinsegae Centum City — the world's largest department store. That title is Guinness-certified and uncontested. Shinsegae is three times the size of Macy's, which was the previous record-holder.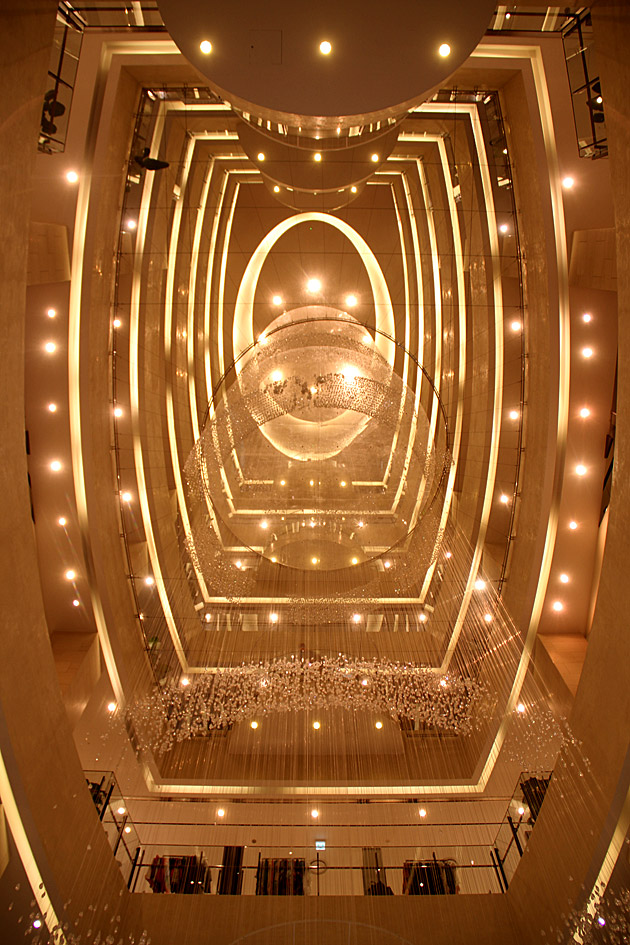 Finally, the fateful day arrived! You have to understand. After three months in Sri Lanka, where most shopping is done in dusty streets, we'd have been excited about any department store, and the thought of visiting the world's largest made us delirious. We stepped through Shinsegae's massive sliding doors, and spent the first air-conditioned minutes hooting like dazzled apes at the sheer size of the place. Fourteen stories! Over 3.1 million total square feet! An ice rink! Four food courts, and a ridiculous number of restaurants! A "Spa Land" with 22 tubs and capacity for 1600 people! A cinema, a water bar, a rooftop park, a bookstore, an art gallery! A driving range with 60 tees!
What to do first?! Exactly as clever as the apes we were unconsciously mimicking, we wandered from the lower-level food court into the four-story parking garage and promptly got lost. "Hngh?" I asked. "Mrrng!" came Jürgen's frustrated reply. You know you're out of "shopping practice", when the first thing you do is lose yourself in the mall's parking lot. I don't know how to explain it… we thought there was a special elevator to the top floor at the end of the lot, but misunderstood the maps. And then we couldn't get back. It was all in Korean! We were jet-lagged! We're idiots: that's probably the simplest explanation.
Shinsegae lacks for nothing. Relaxation, food, entertainment… there are coffee shops and theaters, a rooftop park with green grass, and a daycare center. A person could live quite comfortably here, and I'm fairly certain that some do. Everywhere we looked, there were old women on benches, gossiping with each other. Businessmen were taking breaks to whack golf balls. We sat down at the ice rink with Dunkin' Donuts coffee and watched kids learn how to skate. On the fifth floor, we browsed the huge bookstore, and then checked out the view from the upstairs park, where there were actually people picnicking.
We spent about five hours inside the store, which is more time than we've dedicated to certain cities. As we were leaving, we stopped by the information desk to pick up parting gifts, ours simply for being foreigners. We just showed our passports and proof that we had bought something. I had bought a Dunkin' Donuts coffee, so I got a free bag, and Jürgen had bought a Dunkin' Donuts coffee, so he did too. Not a bad deal, and not a bad day out.