Not far from Eatery Alley, we discovered Bookstore Alley: a tiny road jam-packed with an insane number of used bookshops, cafes and shoppers. With a history going back 50 years, this is one of the coolest corners we found in Busan, and a great place to spend a spare hour… even if you don't read Korean.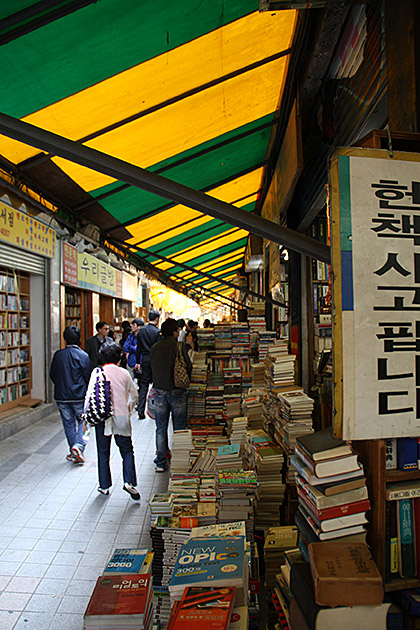 Although the overwhelming majority of the books in the alley's fifty-odd shops are in Korean, there are quite a few English titles on the shelves, and it turns out that they're amazingly easy to spot. It's not like having to discern between French and English, for example. Amid all those completely foreign characters, your eyes gravitate right toward the familiar. For example:
?? ??? ??? ???
??? ???
???? ???
Encyclopedia Brown Gets His Man
??? ??
????? ? (??)
Yes, Encyclopedia Brown Gets His Man was one of the books I found hiding on a dusty old shelf. Picking it up, I was mentally transported back to 1986, when I would sit on the kitchen floor with a magnifying glass and a book of my hero's adventures opened in front of me (hey, I wore glasses and didn't have a lot of geeky heroes to choose from). I'm certain I had the same edition as the one in this Korean bookstore.
The shops in Bookstore Alley are fun to browse, but so catastrophically full that they're difficult to move around in. I dared to ventured into one store and bumped into a towering stack, very nearly toppling it. Under the watchful gaze of the owner, I carefully backed out and contented myself with the tomes visible from the street.