The Cascading Fountain of Nampo's Lotte
Perhaps the fact that that some Busan's best sightseeing can be done inside of shopping centers says something profound about Korean culture. Nampo's giant seaside Lotte Department Store offers enough to entertain a tourist for hours, including a wonderful rooftop garden with views over the neighborhood, and the world's largest indoor cascading fountain.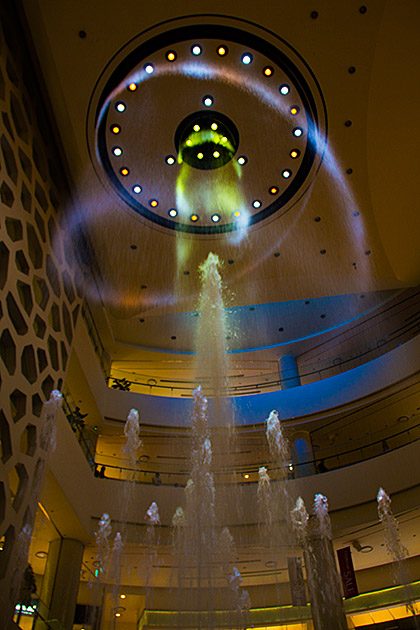 The show kicks off every hour and is quite impressive. Unlike most fountains, this one showers down from nozzles in the ceiling five stories above. The precision is amazing, with the layers of water sprayed in time with the music and, at the show's end, even spelling out "Busan" and "Lotte".
Should you get restless during the ten-minute show, you can always amuse yourself with shopping. I picked up a shirt on the sale rack set up near the fountain, completing the transaction and returning to Jürgen's side while the show was still going on. Juergen was so absorbed in videotaping that he didn't even notice I had sneaked off.