The Eulsukdo Island Bird Sanctuary
With a prime location where the Nakdong River empties into the East Sea, the small, sandy island of Eulsukdo has long been a paradise for migratory birds. However, our trip there couldn't have been more poorly timed, since the birds only visit in the fall and spring. But we'll be gone by August, and didn't want to pass up a visit to this interesting bit of nature.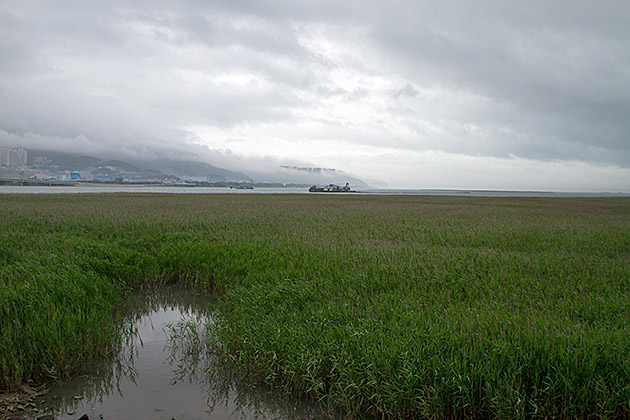 Upon arriving at the island, we toured a couple of sparkling new ecology centers. The first was dedicated to the Nakdong, the longest river in South Korea, with exhibits that underline its importance. The second center was focused on the Eulsukdo Sanctuary. Spanning two floors, with an observatory on top, this was an exhaustive collection of the various birds and animals which can be found here. Decently cool, but there were a ton of schoolkids there, and the place was sweltering hot, so our visit was very short.
Once outside, we discovered with some disappointment that most of the sanctuary was off-limits — the paths were nearly all closed for renovation, and much of the park is permanently inaccessible to tourists. It's understandable; Eulsukdo Island has been heavily affected by human tampering. Fifty years ago, this was Asia's most active location for migratory birds, but only a small number still visit today. Although the island is now protected, construction and land reclamation projects in the latter half of 20th century did irreversible damage to the ecosystem.
So, we walked up and down the one path we were permitted on, saw a couple swans and a crane, and called it a day. Eulsukdo is quite beautiful, but probably only worth visiting in the fall or spring, when the number of visiting birds increases dramatically.