A Day at the Racetrack in Busan
One of South Korea's three horse-racing tracks is found just outside Busan, and we decided to check it out on a sunny Sunday afternoon. We knew that we'd have fun, since we have fun anywhere that gambling is involved, but the Busan Gyeongnam Racecourse Park exceeded our expectations.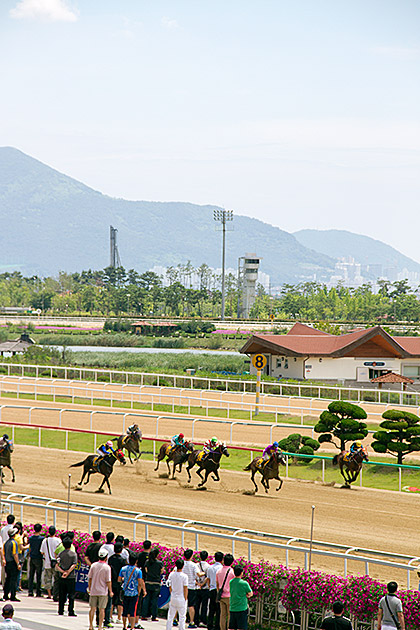 To reach the racetrack, we took a free shuttle bus from the Jurye Metro Station (Green Line) and, upon arriving, were surprised by how large and how full the parking lot was. This is apparently a popular weekend activity among Busanites. The park is new, clean and well thought-out; it's been designed as a entertainment zone for the whole family, and not just hard-core gamblers.
Koreans bet differently than Americans. In the main building, which felt more like an airport terminal than a betting hall, we waded through hundreds of people crouched down over racing papers and notebooks. The mood was quite serious — each bettor seemed to have their own formula for predicting winners, requiring advanced calculations and intense concentration. Whereas in the States you'd have people drinking, laughing and sharing tips, here it was like being in an office full of nervous physicists puzzling out some quantum mechanics problem.
Jürgen and I eschewed such careful logic, and went with the trusty old "look at the horse" method of betting… and ended 0-4 for the day. But our bets were just ?1000 ($0.90) apiece, so no biggie. It's safe to assume that most of the sweating Horse Physicists at the track, emboldened by foolproof calculations, make somewhat larger bets. The stairwell, we noticed, is protected by a net, to prevent any big loser from ending it all.
The racing and gambling was fun, but what really sets Busan's racetrack apart was the family fun park called "Horstory Land". (Obviously named by someone without a full grasp on English. I know what they were going for… "HORSE-stery", but I couldn't divorce my mind from the idea of children running around Whore Story Land. And why would I want to?)
There were rides and horse-themed activities, such as a Wild West theater where each kid sat in a saddle and was equipped with a gun to shoot at the screen. A giant slide with eight separate lanes so that kids could race each other down. International sections dedicated to the history of Italian, American and Mongolian whores horses. And the genius bit: betting stations conveniently spaced all about the park, so that Mom and Dad could continue betting while the brats amuse themselves.
The center of the racing track was also a part of the park, accessed via tunnel. Here, you can bike or rollerblade around a lovely pond while the horses gallop around you. After we were done betting, we sat down in a gazebo in this section of the park and watched the races from the inside out.
For particulars such as transportation and a full list of facilities at the park, check out the comprehensive article at Horse Racing in Korea. Even if you're not a gambler, you can still have a great day at the races in Busan.
–Our Visit To The Buenos Aires Race Track