Songdo Beach and Amnan Park
Sign Up For Travel Insurance Online
Armed with a map of Busan's best walks, a bottle of water and bellies full of doughnut-power, we set off on a long hike through the peninsular neighborhood of Amnan-Dong, southwest of Nampo. The seven-kilometer route would bring us over the Namhang Bridge to Songdo Beach, and down the coast to Amnan Park.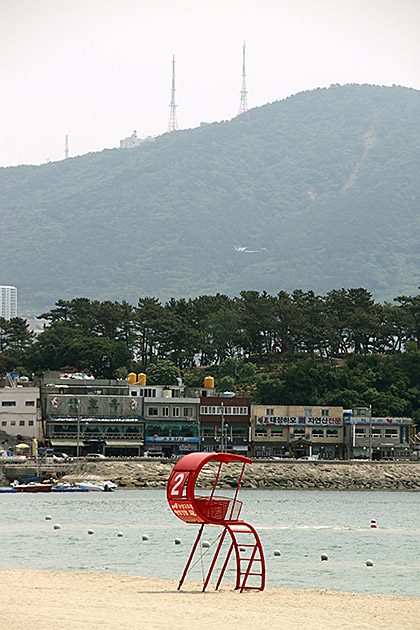 We got out of the bus at the foot of the Namhang Bridge, where fishermen were throwing lines into murky-looking water. The bridge crosses the western end of Busan's port and, after ascending in an elevator to the pedestrian walkway, we had a great view of the Jagalchi Fish Market and the heavy maritime traffic bringing in the day's fresh catch. Construction on the Namhang began in 1985, but it only opened to the public in 2008, due to delays caused by financial difficulties.
At the western end of the bridge, we found Songdo, which was Busan's first public beach. There were a couple whale statues in the water, but nobody on the sand, save a couple optimistic foreigners taking in the sun. The swimming at Songdo didn't look all that inviting, thanks to the huge number of barges right off shore, but the beach itself is beautiful; horseshoe-shaped and surrounded by an never-ending supply of restaurants, most of which specialize in fish. I'd bet that when the lights come on at night, it's a cool area.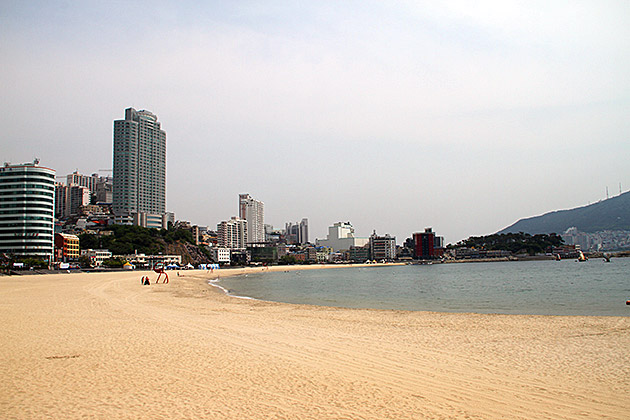 On the far end of the beach, we picked up the Songdo Coastal Walkway, which hugs the ocean and offers some incredible views back over the bridge and down to red-colored cliffs. Midway through, there was an open lot with a long line of fishermen on the rocks, and a makeshift market where their wives (I'm assuming) were selling the freshly caught octopus, squid, oysters and sea squirts. Each stand had a small eating area in the back; you probably couldn't find this kind of meal cheaper or fresher anywhere else.
After the market, the walkway increased noticeably in difficulty. Up and up and up, and then down, then up some more. By the time we reached Amnan Park on the southern extreme of the peninsula, we were exhausted. There was a great view, and some interesting modern sculptures were strewn haphazardly around the park, but we were mostly just happy to be finished, and found a taxi to take us back to Nampo-Dong.
Busan is amazing for hiking — while in the woods along the coast, with nothing but the sound of the ocean for company, it's hard to believe that you're still in the middle of a major metropolis. In how many cities of Busan's size can you feel totally secluded in nature?
-Hiking Gear