We've done a lot of hiking and hill-walking during our time in Busan, but until our trip out to Hoedong Lake, we hadn't actually experienced a truly Korean day of hiking. This was the last big excursion we'd be undertaking in Busan, and we couldn't have hoped for a more authentic day out.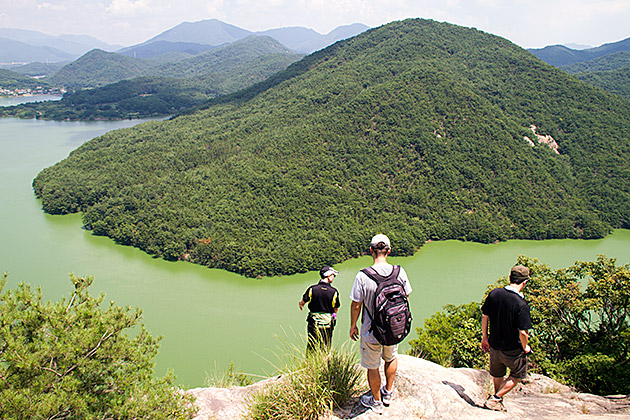 When our friend Seong Yeop invited us to check out the Hoedong Lake with his father, we immediately said "yes". But within seconds of beginning the hike, I knew we were in trouble. This wasn't going to be the lackadaisical, relaxed stroll we normally indulge in, frequently interrupted by photo stops and water breaks. Nope, Sean's dad had darted out in front, and was setting an insane pace which Jürgen and I had a hard time matching. He was completely geared up and taking no prisoners.
Through the woods we marched, and along the beautiful lake. Used for drinking water, it's off limits to swimmers and fishermen, and colored a dark green which reflects the woods. Halfway through the hike, we came upon a small restaurant and sat down for a break. Plates of pajeon and dotori muk muchim (acorn jelly salad) were set in front of us, along with two bottles of makgeolli. After the strenuous hiking, the makgeolli hit hard, and I was visibly wobbly when I stood up, much to the amusement of Mr. Lee.
But we felt replenished after the break and, as Seong Yeop promised, the makgeolli buzz wore off quickly. Soon enough we were hiking up a seemingly endless hill for a view over the lake. Gorgeous, and by this point I was starting to get into the rhythm of the speed-walking. The rest of the trip went by in a flash, but I think we must have done about ten kilometers, all told.
After getting back into the car, we drove to a restaurant where we were treated to ginseng wine out of little cups the size of thimbles, and delicious bowls of chicken soup. The chicken was incredibly tender and fell off the bone at the slightest touch from our chopsticks. Wonderfully nourishing and strangely refreshing on a hot summer day, this is apparently a popular thing to eat after a day of hiking. I was completely full upon finishing, but had to make room for dessert at the final stop of the day: an awesome cafe specializing in patbingsu, or ice shavings topped with red beans.
Our day out with Seong Yeop and his dad was one of the highlights of our entire three months in Busan. I guess you haven't gone hiking in Korea until you've gone hiking with Koreans! We had a blast, and it's a perfect final memory from our time in the city. Thanks guys!
Location of Hoedong Lake on our Map