Brave the Crowds of Haeundae Beach
South Korea's most popular beach is Haeundae, found on the northeastern end of the city. Famous across the country as a place to see and be seen, Haeundae explodes into life during the summer when the entire beach is covered in both parasols and people who are less interested in swimming than looking good.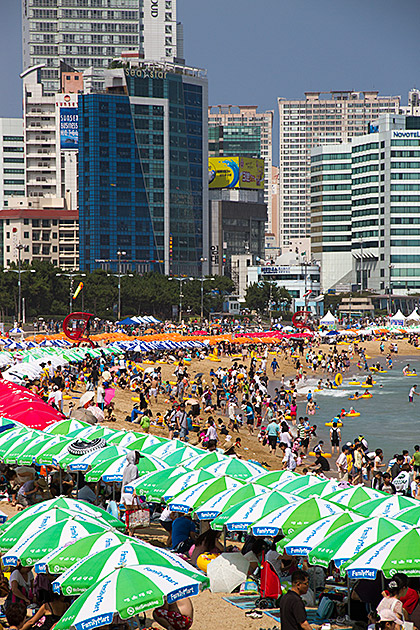 Unfortunately, this has been a very wet summer, and there haven't been a lot of weekends conducive to beach time. But the clouds momentarily lifted on one Saturday afternoon, and we went to check out the scene. Haeundae has the world record for most number of parasols on a beach (yes, there's a "record" for that), and the atmosphere is claustrophobic and chaotic.
We walked up and down the sand — the water was awfully cold (perhaps we've been weakened by summers on the southern coast of Spain), so we had to content ourselves with people-watching. Luckily, the people-watching is excellent. There are girls walking around on the sand with high heels, guys carrying fluffy dogs with dyed-red ears, groups of foreigners playing volleyball and thousands of parasols, almost all occupied. Haeundae is a hot-spot for the wealthy youth of Seoul, who come to Busan in droves for the weekend.
There is some structure to the chaos of Haeundae. You can rent the umbrellas at automatic machines, as well as big yellow inner tubes for the water. If you get hungry while sunbathing, just pick up the phone — pizza companies will deliver to the beach. And despite the rigid organization, there are less rules here than at many beaches; you can drink, play ball, and bring dogs.
It's not exactly the kind of beach experience we normally go for, but clearly appeals to a lot of people. A day on Haeundae is perhaps not relaxing, but it's certainly entertaining.