Geoje Island and Damned Monsoon Season
After having such a great time in Gyeongju, we immediately planned out our second day trip from Busan — Geoje Island. Unfortunately, this excursion was doomed to failure, thanks to the torrential rains of South Korea's summer monsoon season.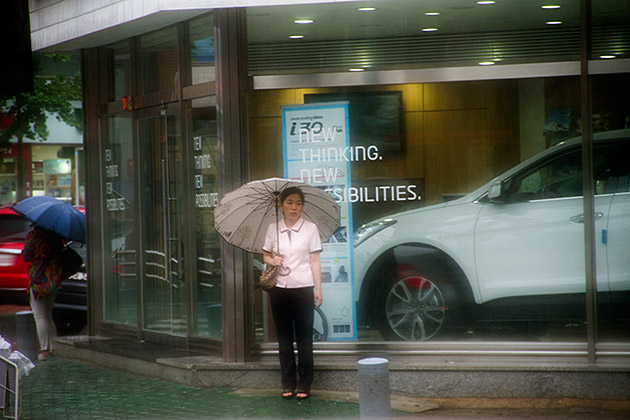 While doing our initial research on Busan, we read that it monsoon season would be from late June to late July. But we ignored that inconvenient fact, and soon forgot it completely. Who wants to waste time thinking about monsoon season? Turns out, willful ignorance is no defense when reality comes knocking. The past few weeks have seen horrible weather; rain almost every single day. And every day, we shake our puny fists at the heavens, cursing our luck and feeling freshly outraged. It's not fair!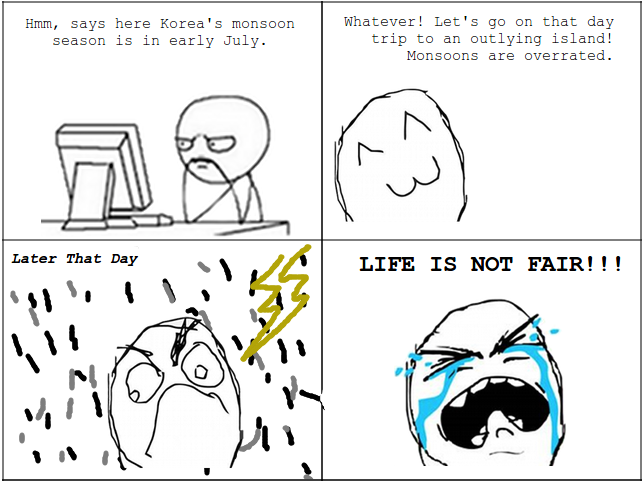 So, our trip to Geoje Island wasn't much of a success. We arrived in the evening, and ran through the rain to the first love motel we could find. The next morning, the rains were even heavier and the tour we had planned to join was cancelled. The thought of venturing out into the whipping winds and the Noah-worthy deluge was laughable. We sat at the window of a cafe for a couple hours, coming up with ever more vicious and creative ways to curse God, and then went back to Busan. Utterly defeated.
But usually, Geoje Island is worth a visit. Although it no longer fits into the days we have remaining in Busan, here's what we would have seen.
Oedo & Haegeumgang – Oedo is a gorgeous island just off the coast of Geoje that doubles as botanic garden, with sculptures and open-air art. It's called a "Paradise in Korea". Haegeumgang is a smaller island made of rocks, with soaring cliffs and columns. These islands sound cool, but sipping coffee in a cafe is even cooler, so I guess we won this round.
Gujora Beach and Hakdong Pebble Beach – Gujora is home to excellent swimming, with soft sand and shallow, warm waters, and was the former site of an ancient fortress. Hakdong is 1.2 kilometers of beauty, ringed by Camellia flowers and covered in a unique kind of pebble called "Mongdol". Sounds alright, but our café has wireless internet and we'd rather spend the day checking Facebook, anyway. So, whatever. Hey look, Jimmy just posted another picture of his kids. Beth likes War Commander. Hmm!
The Hill of Wind and Sinseondae Observatory – Found near a picturesque fishing village, this hill juts out unprotected into the East Sea, exposing visitors to the ocean winds. The observatory offers unparalleled views of the rocks set against the ocean. Sinseon means "mystical beings"; the area is said to be so unforgettable that even the supernatural come here. Pffft. I highly doubt it can compare to the doughnuts that we continue to stuff into our faces, in this incredible cafe.
Geojedo P.O.W. Camp – This former camp once housed over 170,000 North Korean and Chinese prisoners of war. Today, it's been converted to a historic park, which recreates and describes the conditions inside the camp and lives of the prisoners who spent their days here. Must be fascinating. But we wouldn't know. Damned monsoon.
Location of Geoje Island on our Map
The bus to Geoje leaves from the Seobu Bus Terminal, found here.
-Our Travel Tumblr