The APEC House and Dongbaek Park
The Nurimaru House was built for the 2005 APEC (Asia-Pacific Economic Cooperation) Summit, which brought together the leaders of its twenty-one member nations. With a striking location in Dongbaekseom Park overlooking Haeundae Beach, the house now serves as a memorial to the meeting.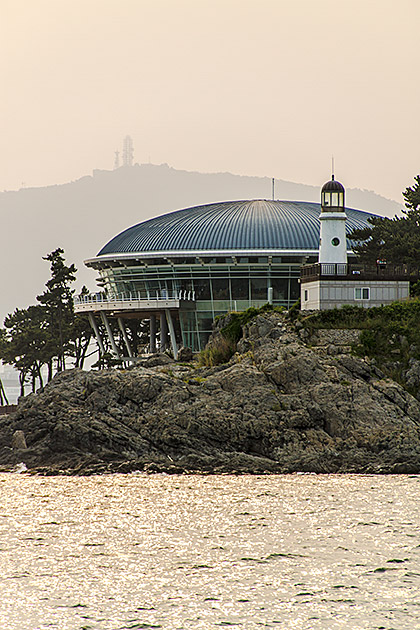 Dongbaekseom used to be an island, before a natural accumulation of earth and sand attached it to the mainland. The suffix -seom means island, and the dongbaek is a kind of tree. Today, the park is a beautifully wooded nature preserve, offering a number of trails and unbeatable views of Haeundae Beach. A popular coastal path connects the beach to the APEC House, which is found among amid camellia and pine trees.
Along the coastal trail, the large statue of a forlorn mermaid is unmissable. According to legend, this is the Princess of Topaz from the Kingdom of Naranda, found far beyond the sea. She was married off to the King of Mungungnara, and now sits immobile, crying for her lost country. Her name comes from the topaz bead given to her by her grandmother, which she grips during her endless lamentations for home. It would be hard to imagine that this story isn't an allegory for the Koreans who left home during the struggles of the Japanese occupation and Korean War.
The Nurimaru APEC House was built for one solitary purpose and, like the Mermaid, now sits frozen in time. During the 2005 APEC Summit, leaders from the countries of the Pacific Rim discussed a number of topics of common interest, such as Copyright Protection and Aviary Flu defenses. Possibly its most notable achievement was to get George W. Bush into a Korean Hanbok. I don't like the guy, but this isn't actually a bad look for him.
Touring the APEC House was kind of strange. We got to see the round table at which the various heads of state sat, and were able to admire one of their meals. There was some information about what was discussed, and about each member state. But that was about it. By now, this incredible house, which showcases Korean architecture in a pristine location, should have found new life — it's not as though the 2005 APEC Summit was a meeting of such historic importance that it needs to be forever memorialized. Put a plaque up or something, and move on!
Location of the APEC House on our Map