Before visiting Suyeong Park, we had no idea what to expect. Despite its central location, with Bexco and Shinsegae visible just over the Suyeong River, this ramshackle neighborhood is definitely not on the normal tourist itinerary. But we had a great time in the park, which was filled with historical monuments, sacred trees and people playing chess, exercising and just relaxing.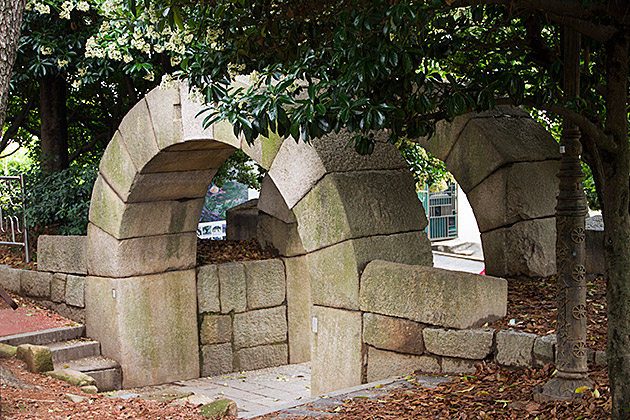 Suyeong Park occupies the former site of the Joseon Empire's naval base, which was used mostly for operations in the East Sea against Japan (the body of water which separates Japan from the continent is referred to by most of the world as the "Sea of Japan", but this designation has been aggressively contested by Korea for years, who believe "East Sea" should be the name of record. We're on Korea's side by default, at least for this 91 days, so "East Sea" it is!)
There are a number of historical remnants in the park, such as the South Gate of the former citadel: two arched gates which lead into the park, guarded by a pair of stone dogs who watch for Japanese pirates. And there's the Euiyonjeinbi monument which commemorates the deaths of 25 patriots during the Imjin War with gravestones set in front of a large shrine. But my favorite object in the park wasn't man-made; it was the 500-year old Pujo tree, which stands out with its sheer size and distinctive shape. According to a sign, locals believe the spirit of an old grandmother resides in the tree, bringing luck to those who remember her.
The park also houses the Suyeong Folk Art Center, with a large circular arena where we read that cultural performances "regularly" take place. I asked the girl working there, and it turns out that "regularly" means twice a year, with the next performance sometime in the fall. That's an incomprehensible waste; this could be a great outdoor theater for the summer.
The best part of Suyeong Park was the number of people who were there enjoying it. Along with the usual array of gym machines, there was an area for Korean Chess where a bunch of matches were being hotly contested. It's a game I'd like to learn, and I watched one particularly fast-moving game for awhile. But I had no clue what was going on; it looked to me like they were just randomly shuffling the pieces around in between swigs of soju… which, even if that's the extent of it, would still be a fun game.
Our day ended with a walk through the surrounding neighborhood. Despite being smack in the middle of the city and so close to ultra-modern structures like Shinsegae, there's an appealing old-world vibe in Suyeong. No skyscrapers or giant apartment buildings, no Starbucks or western-style shops. Everything looks just a little run-down; the shops are old and cluttered, and the restaurants are cheap, humble neighborhood joints. It's definitely an interesting corner of Busan.
–Please Visit our Facebook Page