At the southern extreme of Yeongdo Island, a thick forest suddenly gives way to soaring seaside cliffs. This is Taejongdae Park, one of the most emblematic spots in Busan, and a popular place for a walk or, if you'd rather, a scenic ride in a tourist train.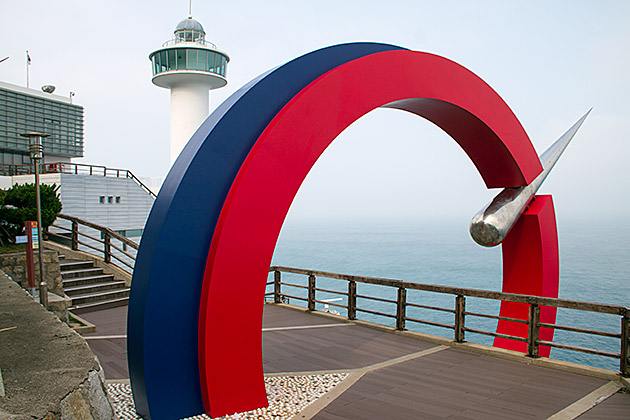 We arrived at Taejongdae after a lengthy hike along the southern coast of the island. Our day started at a collection of tents set up along the water, selling and preparing clams, mollusks and sea pineapples. We didn't have any appetite and after our experience at the Millak Raw Fish Market, the sight of a sea pineapple makes me nauseous, but this was a cool area. Sometimes, the waves would crash so high that they'd drench the plates of seafood. I suppose a little sea water on your clams isn't all that bad.
Our path now went straight uphill, and continued through the woods for a few kilometers. Every once in awhile, we'd get incredible views over the sea, and there were very few other hikers around to spoil the tranquility.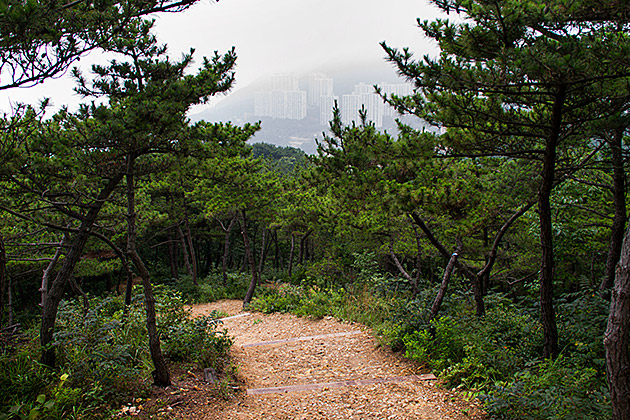 The solitude, though, came to an abrupt when we reached the entrance to Taejongdae Park. Even though it was a regular workday, there were a ton of people here. Mostly young couples wearing matching t-shirts. This "Partner Look" is a phenomenon which has amused us since our arrival — often, it's not just the same shirts, but whole outfits arranged in a complementary fashion. A guy wearing a shirt in the same light-blue color of his girlfriend's skirt, and both wearing the same baby-blue sneakers. (I shouldn't smirk too much. Jürgen and I tend to dress alike, too: dirty t-shirts and ratty jeans.)
Most of the people didn't join us on our walk through Taejongdae, instead waiting for the "tourist train" which circles the park and hits the various sights. There was a lot to see — sculptures, temples, flower gardens. The highlight, though, is the lighthouse and observatory at the far end of the island. With unbeatable views of the nearby Oryukdo Islands to the north and rocky cliffs to the south, this is an amazing area. We climbed out onto the rocks, and took a break before heading back to the park entrance.
Location of the Taejongdae Observatory on our Map