A Cable Car to Geumjeongsanseong Fortress
Turns out that Busan is the kind of city which can have a giant mountain right in its center, topped by an ancient fortress, accessible by cable car… and it's not a big deal. We were shocked when we learned of the cable car up Mt. Geumjeongsanseong, and Busan was all "Oh yeah, that. I forgot about that." It doesn't even appear in the various "must-do" lists we've read for Busan, while in most other cities it would be the top highlight!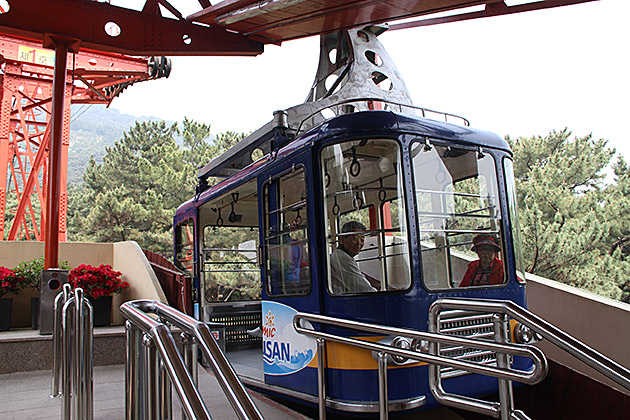 The origins of Geumjeongsanseong Fortress lie obscured in the past, but it's thought to date from the Three Kingdoms period of Korea (57 AD – 668), when Busan was part of Silla. Rebuilt in 1707, it's the largest mountain fortress in the country, spanning 3.2 square miles. A wall in various states of repair marks the perimeter, with gates and watchtowers spaced along its length. Nowadays, the interior of the fort is used for hiking (an über-popular Korean pastime) and nature retreats.
The cable car up the mountain was fun, although the day was so hazy that our view was severely limited. It takes about five minutes and runs for over a kilometer. On arriving, we had to hike twenty minutes uphill to arrive at the fortress' South Gate, which has been recently renovated, as have long stretches of the wall.
After passing through the gate, our day really started. We had underestimated the size of the park, and immediately realized that our planned hike to the North Gate wouldn't be happening. We walked along the eastern wall for a couple hours on a well-marked but very hilly path, dodging the caterpillars hanging from trees, and enjoying some incredible views over the city.
For a mountain fortress on a Tuesday morning, this was a surprisingly busy place. We encountered a ton of other hikers, and every single one of them was completely outfitted in Ultimate Hiking Gear. The pants, the jackets, the backpacks, gloves, sticks, caps, etc. It was like we had landed in a commercial for hiking clothing and equipment.
On the way back to the South Gate, we got lost — getting lost seems to be a pattern for us in Busan. We were within 500 meters of the exit, but turned right instead of left, ignoring the sign for something called "Nam Mun" and continuing for an hour before finally pausing and thinking, "… wait a second". Turns out, Nam Mun means South Gate. Oh silly guys, how did we not recognize the sign that so clearly pointed the way to "??"?!
Although we were completely exhausted by the time we arrived back home, it was a great day out and I think we'll be back. The Western Gate of the fortress is supposed to be impressive, as is Godangbong, the city's highest peak. There's enough to see on Geumjeongsan Mountain to occupy days.
Location of the Cable Car Entrance