Manga is a Japanese phenomenon, but comics and animated TV shows are also big business in Korea, where they're known as manhwa. During our first weekend in Busan, a manhwa festival called Comic World was being held at the BEXCO convention hall. Wild Korean youth dressed in freaky cosplay? No way we were missing that.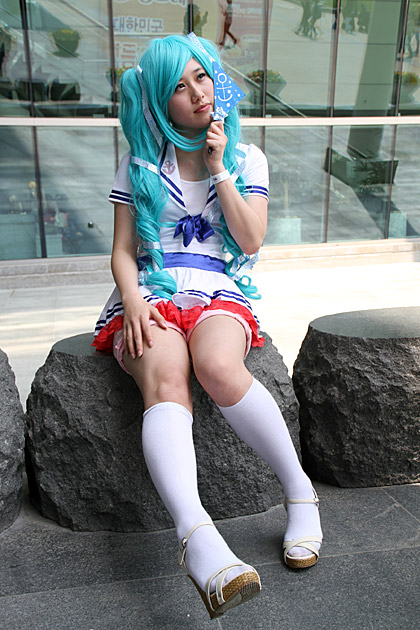 Unfortunately, the convention was a disappointment. There were stands selling posters, slash fiction, stickers and t-shirts. Some kids were sitting on the floor to watch TV shows. And that was about it — perhaps we arrived at a slow time, but it was more than a little boring. We could have saved the ?4000 ($3.60) apiece we paid to enter the hall, because the real action was going on outside.
A ton of young girls and guys costumed as their favorite characters were wandering around the BEXCO plaza, striking poses for photographers ("We are combat team!" or "I am sweet schoolgirl!"). There were a lot more girls than guys; even in the world of comics, playing "dress up" seems to be a female-dominated pastime. And I noticed that the more attractive the girl, the sexier her outfit tended to be. Little wonder that most of the "photographers" at the event tended to be somewhat older, shifty guys.
We wanted to encounter different subcultures and sub-subcultures during our time in Busan, and this was a fun way to dip our toes into the water. The Comic World festival occurs every couple of months at the BEXCO.
Does anyone have recommendations for some good manhwa available in English?