The beginning of the summer has hit Busan, and the city seems to be celebrating with a raft of festivals. There's the International Car Show, a River Sports Festival, an International Dance Festival, a Port Festival, and a Traditional Folk Festival… and this all in the first week of June! We felt a little guilty skipping out on all of them, so decided to check out the Sand Festival at Haeundae Beach.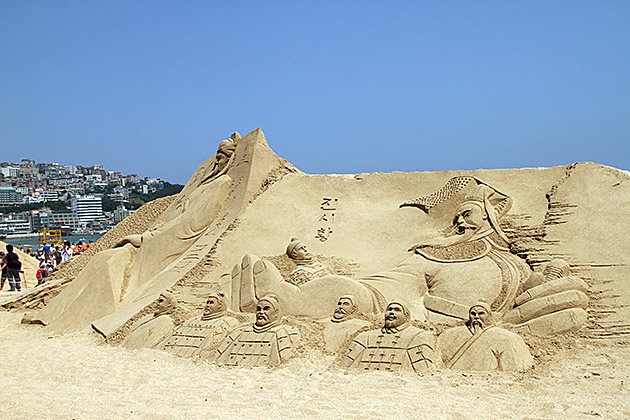 It was one of the first sunny weekend days of summer, and the beach was packed with people. Not too many of them were there for the Sand Festival, though, and it quickly became apparent why. Where we had expected huge statues made of sand, the sculptures weren't much more than "paintings" in the sand, carved out of big mounds.
Some of them were quite well done, but we weren't too impressed and quickly abandoned the festival to spend an extra hour laying on the beach. But we got some great photos worth sharing, and the atmosphere on the beach was a lot of fun… even if we can classify the Sand Festival itself as "skippable".