Busan's Chinatown – Shanghai Street
Book Your Cheap Flight To Korea Here
Straight across from Busan Station, a traditional Chinese-style gate welcomes you into Shanghai Street — the nexus of the city's Chinatown. We visited this hectic and very un-Korean neighborhood during its annual celebration.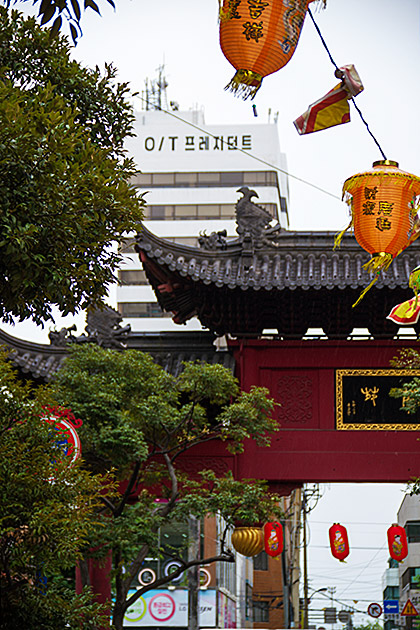 The Chinese and Koreans have had a rocky relationship since long before the founding of either nation, but the contemporary Chinese presence in Busan only dates from 1884, when the city officially established diplomatic ties with Shanghai. A Chinese school and a consulate were established in the present-day Shanghai Street, which resulted in a number of Chinese settling here permanently.
A couple months ago, I would have never been able to tell the difference between a Chinese and Korean street, but now it was immediately clear. As soon as we passed through the Shanghai Gate, we found the street signs and restaurant names written in bewildering Chinese instead of the simple Korean characters we've learned to recognize. And mixed in among the Koreans wandering the neighborhood and partaking in the festivities was a noteworthy number of… Russians?!
Yes, even more so than the Chinese, it's the Russians who now inhabit this area most prominently, particularly along a specific strip of Chinatown known as Texas Street. The name comes from the days when US soldiers used to prowl the neighborhood in search of cheap booze and cheaper sex. The Americans are now gone, and Texas Street has been thoroughly Russified, with advertisements for vodka visible among the numerous sex dens. I'm glad we were walking around the neighborhood during the day, as it can get pretty seedy and dangerous at night.
Russians on Texas Street in a Korean Chinatown. It couldn't get much more internationally jumbled than that, unless they were all wearing lederhosen and eating burritos.
Because of the rain, we didn't stick around the festival for long; just enough to catch the end of a musical performance, and the beginning of that ancient and revered Chinese ritual of noodle-speed-eating. This was fun, especially when one of the contestants began laughing uncontrollably, shooting noodles out her mouth and nose, all over the table. She didn't win.
Location of the Shanghai Gate on our Map