The largest market in Busan, and almost definitely the biggest I've ever visited anywhere, is in the central neighborhood of Bujeon. Calling it a market town is no mere hyperbole — just the covered portion comprises a full grid of streets and alleys, and you can easily get lost in its chaotic, densely crowded streets.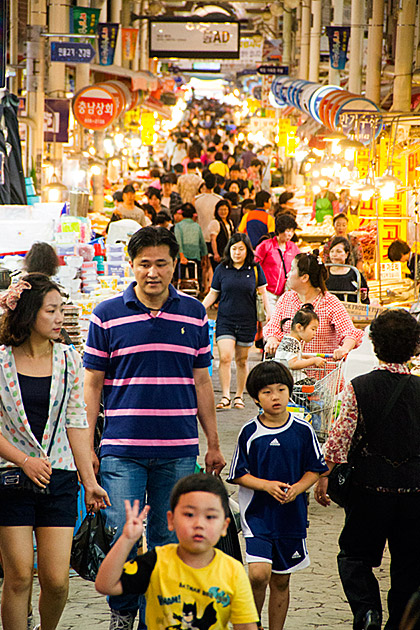 If Bujeon were closer to our apartment, we'd be there daily. Everything under the sun is sold at the market, from food to household goods and electronics. We saw a woman peddling puppies (presumably as pets), a flea market of vintage clothing, bakeries selling sweets, squiggling octopuses and squids. Pots, pans, aprons, fruits, spices. Everything a Korean kitchen could ever possibly need. Should your kitchen need a cook, I'm sure you could talk one of the thousands of sweet old ladies working there into coming home with you.
And it's unbelievably cheap. A bag of chili powder which was twice the size of the bag I'd just bought from a supermarket was half the price at Bujeon. For less than a buck, Jürgen and I shared a strange rice-cake which was shaped and served like a corn dog, complete with ketchup and mustard. Then, after being offered samples, I picked up two delicious green-tea doughnuts for about $0.60.
Bujeon has its own subway stop, and is within easy walking distance of Seomyeon, which is basically the apex of downtown Busan. Definitely worth a look.