Busan Food Journal, Part Five
We're more than halfway through out time in Busan, and still haven't gotten sick of the food. There's a lot more variety to the cuisine than we had expected, especially once you add in the Japanese and Chinese (and Thai and American and Vietnamese and so on) influences. This week, we tried a couple of non-Korean places out, gave in to our pizza addiction, and went against better judgment to sample ginseng wine.
Food Journal: Part One | Part Two | Part Three | Part Four | Part Six
Sundubu Baekban (?????)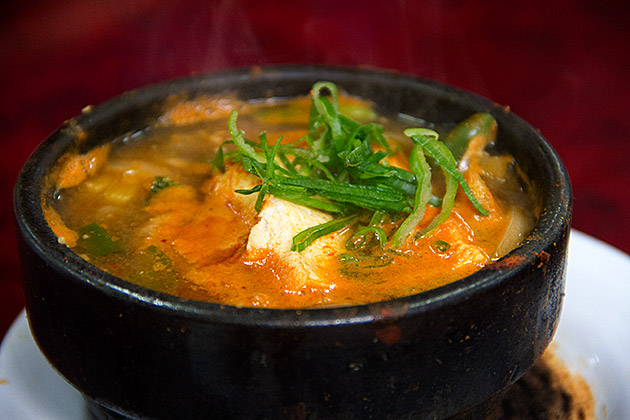 We were tipped off to Nampo's extremely popular restaurant Dolgorae (???) by one of our readers, who provided exact instructions as to the location. Thank god, because we'd have never found it ourselves! The specialty in this second-floor eatery, tucked away on one of Nampo's million alleys, is Sundubu Baekban, which is a hearty and delicious tofu soup. I had the Doenjang Jjigae, which was similar but with seafood mixed in. Dolgorae is a real find… anyone else who has great tips like this: let us know! [More Pics]
Mr. Pizza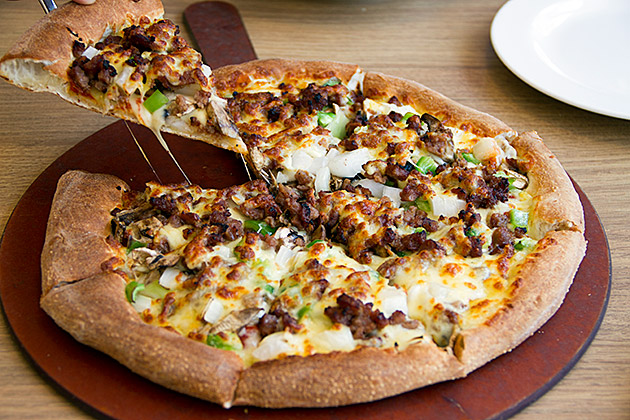 Mr. Pizza (????? in Korean, which transliterates as Mi-seu-teo Pi-ja) is probably the most popular pizza franchise in Busan, with branches found all over the place. We treated ourselves to a trip here on a lazy Sunday afternoon, and enjoyed every bite of our greasy "New York Style" pizza. But we regretted it immediately afterward, just like we always do after eating this kind of food. [More Pics]
Insamju (???)
In Korea, ginseng is big business. Entire stores dedicate themselves to the ugly root, selling giant glass jars holding monstrous specimens. There are a lot of ginseng health drinks, but I was surprised to find this ginseng wine at the grocery store, and decided to give it a shot. It's awful. It tastes like… well, like wine made from ginseng. It's supposedly good against sexual dysfunction. Too bad you'll be too busy vomiting to have much fun in the sack.
Sweet & Sour Cocktail Shop (?? ??? ???)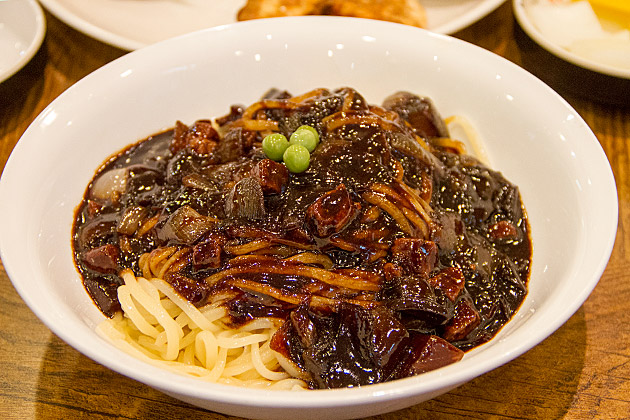 After Japanese, Chinese is probably the second-most popular type of foreign food in Busan. You can usually identify a Chinese restaurant by red lanterns hanging outside the doorway, or pictures of the black-bean noodles which they all seem to offer. We went to the Sweet & Sour Cocktail Shop — I have no idea if that's the actual English name, but this is how Google Translate handles it: "?? ??? ???". At any rate, it's an excellent restaurant near Gwangalli Beach (location), where we tried out the delicious black-bean noodles for the first time, with a side of fried dumplings.
Galbitang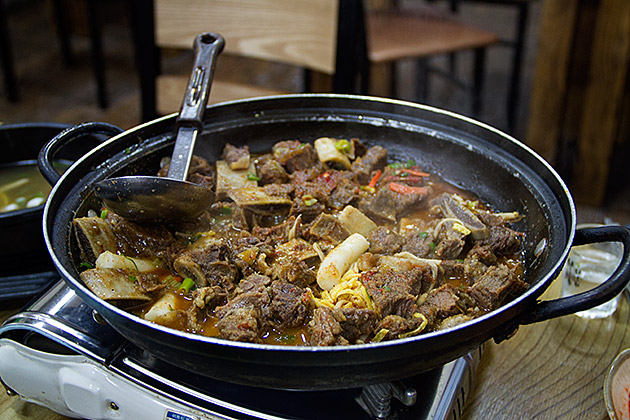 A friend took us to "Galbi Aid" (rough translation of ?? ???), a great restaurant near the Yeonsanyeok Metro station (location). This neighborhood is home to a lot of big companies, and filled with the kind of places exhausted businessmen like to frequent after a long day of work, like karaoke bars, hostess clubs and no-nonsense restaurants. We had Galbitang, a spicy stew of short-ribs and veggies. After we'd scooped away most of the soup into our bellies, the waitress brought rice, which she mixed into the bowl for a second round, which was just as delicious as the first. [More Pics]
Ikeman Bento (?????)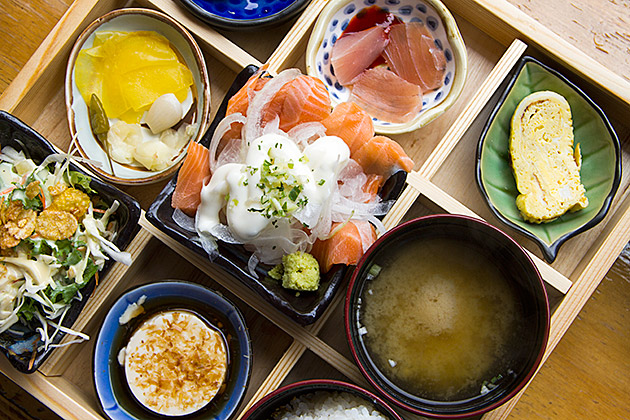 During our exploration of the Kyungsung University neighborhood, I spotted a sign advertising anime. I'm a comics fan, so eagerly ascended the to the third floor, where I expected to find geeks thumbing through Detective Conan. Instead, I had discovered a Japanese Bento restaurant (location). My initial disappointment quickly disappeared, and we sat down for a meal. You get one main dish surrounded by nine side items in a tic-tac-toe-shaped box. I had smoked salmon, and Juergen went with teriyaki chicken. The food was great, the prices incredible, and the restaurant was kitschy, cute and popular. Highly recommended. [More Pics]
Okkudak Chicken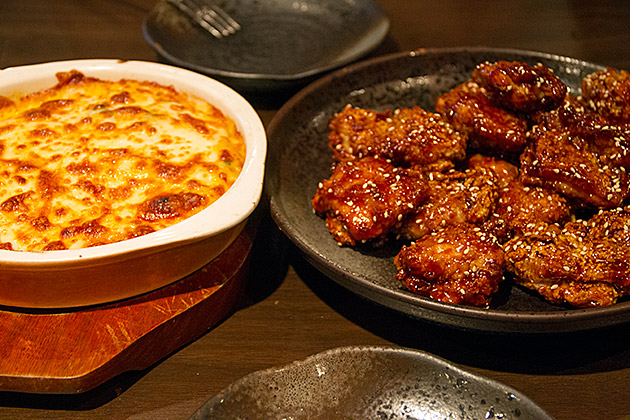 Our visit to Mr. Pizza might not have been worth writing home about, but soon enough, we found ourselves craving The Unhealth, yet again, and let our noses guide us to Okkudak in Kyungsung (location), where the specialty is fried chicken. Now this was an artery-clogging meal that we could get behind! Garlic-fried chunks of chicken with a heaping side order of cheesy baked sweat potato puree. And beer. And joy.
–Like our Travel Books (Please!)