Busan Food Journal, Part Two
Early on, we started to learn how to pick out some of the Korean words for foods we especially liked. Bibimbap is easy, mostly a lot of "b"s strung together (???). And we could quickly identify both bulgogi and kalguksu. But we weren't out of the woods yet! On one Saturday night, we sat down a popular place in Seuyoung and only realized at the last minute that they serve strictly intestines. Props to the English-speaking kid at the neighboring table for warning us!
Food Journal: Part One | Part Three | Part Four | Part Five | Part Six
BBQ Pork (???????)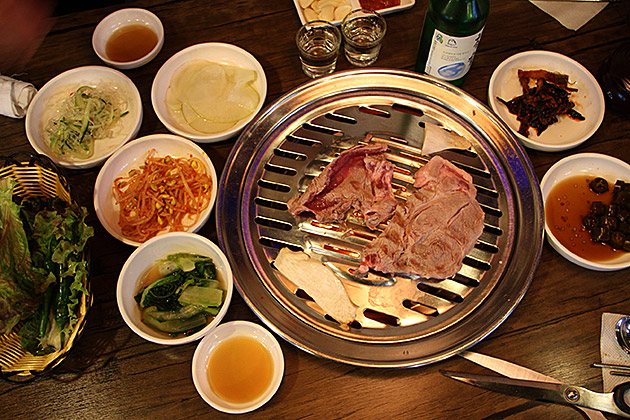 This was an adventurous meal at K'ubso-K'ubso (????), near the Geumnyeonsan metro station (location). We were feeling confident (or, a little buzzed on soju) and took our seats at this popular restaurant, knowing full well that the menu would be entirely in Korean without any pictures. We didn't even have our dictionary. And so we used the venerable and classy "walk around with the waiter and point at other people's tables" method of ordering… and ended up with a great spread. [More Pics]
Hotteok (??)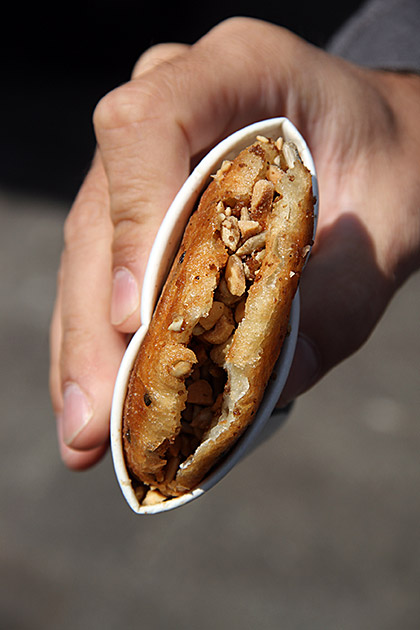 These mini-pancakes stuffed with sugar, spices and sunflower seeds are one of the more popular types of street snack in Busan. We tried them once at BIFF Square (location), and they were good! But to make sure that the first time wasn't a fluke, we tried them again. Yep, still good. We weren't convinced though… and decided to try them a few more times to make extra-sure. It took forty-three hotteok-tastings, before an adequate confidence level was reached. Forty-four. It's simply what we must do to maintain the integrity of our blog. [More Pics]
Korean Melon (???)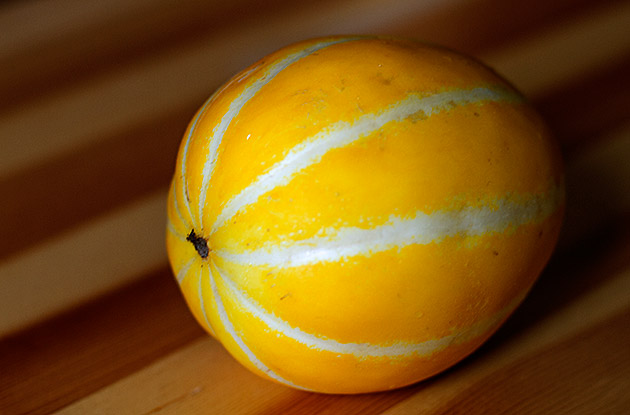 The first time I saw this beautifully shaped and colored fruit, I thought it was an orange which had been carved for decoration. But then I saw them being sold by an old guy on the street, and realized there was no way he had carved all those oranges. I bought a few, and was surprised to discover that they're in fact tender, sweet melons. To eat, just cut lengthwise down the middle, scoop out the seeds (I use my thumbs) and peel off the skin.
Cheese Tonkatsu (???)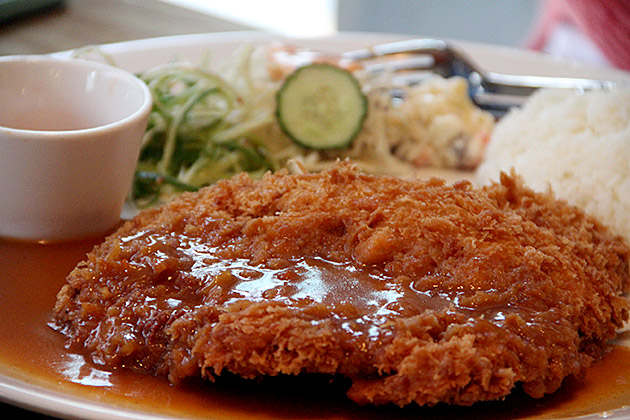 Tonkatsu is a dish which was introduced to Japan by the Portuguese, and has since found a permanent foothold in the cuisine of Busan. Our friends Robert and Jumi from Paella de Kimchi took us to a great restaurant called Rila Bapjip (?? ?? – location) to try the crispy-fried pork cutlets. They were covered in a thick sauce and stuffed with cheese. So delicious, and the gorilla-themed Japanese restaurant near the PNU University was cute.
Waffle and Ice Cream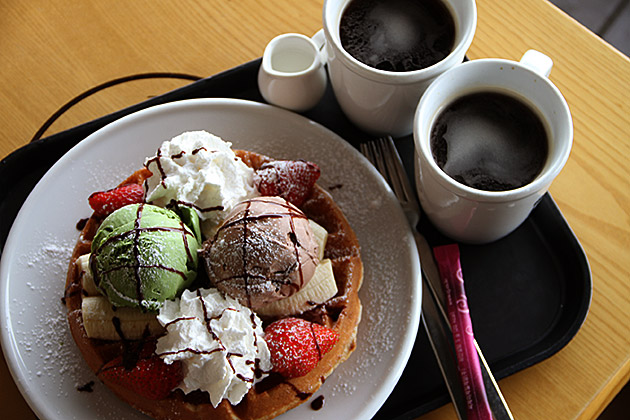 Is it a traditional Korean dessert? Do I care? Waffles are a popular breakfast item here, and at BeansBins (perhaps my favorite of Korea's many coffee chains – location), they're sold with two scoops of ice cream plopped on top. This makes for an excellent Sunday brunch.
Kimchi Jigae (?? ??)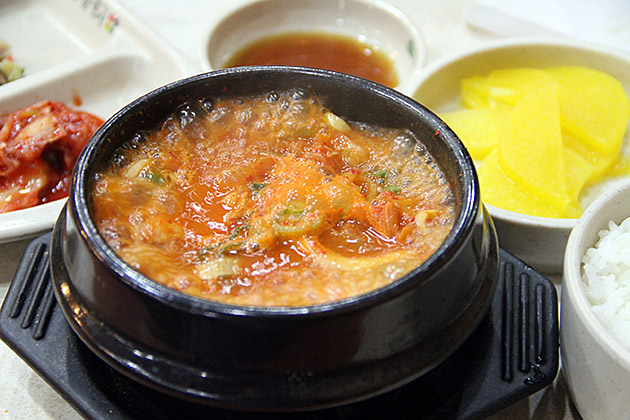 Gim-Bap-Jeon-Guk (????), on the southern end of Gwangalli Beach (location), turned into our go-to restaurant when we can't be bothered to find anything else. Cheap, good and, most importantly, close to our apartment. Plus, the three women who work there are accustomed to dealing with foreigners. When I spit out "chu-cheon hae-ju-shi-gess-eo-yo" (What do you recommend?), our waitress took a second to figure out what I was trying to say, then laughed and pointed to the Kimchi Jigae, a rich stew. So that's what we got, and it was delicious.
Bo-ri-bap (???)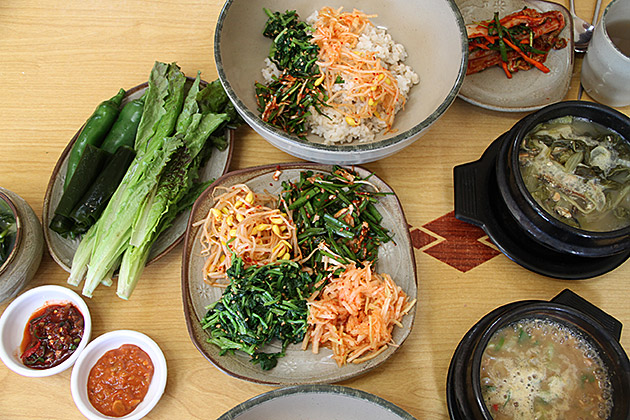 Not the best meal that we've had in Busan, Boribap is a dish of boiled rice and barley mixed with veggies and sauce. We tried this at a small joint near City Hall called Go-Hyang (?? – location), which was full of women on their lunchtime break. All conversation stopped when we entered, and fifty eyes monitored our clumsy efforts to kneel and sit indian-style at the last open table. The other diners left us alone while eating, but as they left, each one stopped at our table to say "goodbye". Kind of sweet. [More Pics]