Jungang Park and the Chunghon Tower
Set atop Daecheong Mountain, one of Busan's most central peaks, Jungang Park offers visitors an unparalleled view over the city and its port. Inaugurated almost twenty years ago, the park and its crowning Chunghon Tower are dedicated to the memories of the service personnel who gave their lives in the Korean War.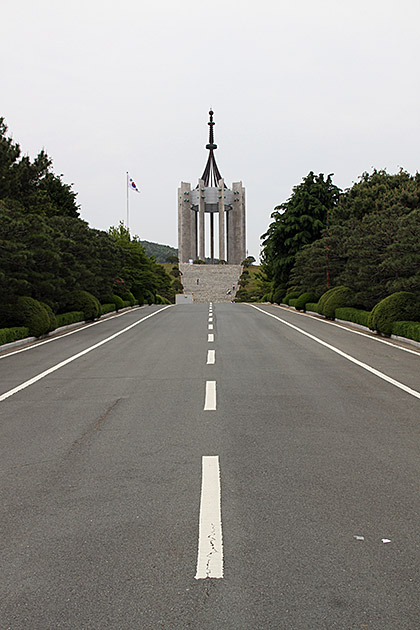 During the war years, the slopes of Daecheong Mountain hosted many of the refugees who had flocked to Busan, fleeing the carnage in the north. The mountain was an ideal shelter for the newcomers, central enough to be practical, but also separated from the city's regular life by its sheer altitude.
At the center of Jungang Park is the tall, circular Chunghon Tower. A long set of stone stairs leads up to it; around the tower's base is a series of photographs detailing the atrocities of North Korea and the heroic deeds of the South. More than a bit propagandistic, but I suppose they earned the right. The tower itself is impressive for its size, if a little abstract. A statue, apparently of the policemen and soldiers whom the monument lionizes, was hidden behind a tarp for cleaning when we were there.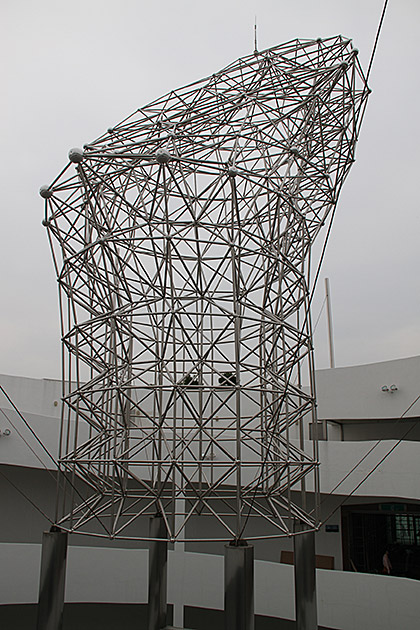 Adjacent to Jungang Park is the enchantingly named Democracy Park. We visited on a Sunday and the park was filled with kids playing hide-and-seek, old ladies dancing and singing (for real), and groups of men engaged in games of Korean Chess. A bizarre set of sculptures decorate the park, along with a couple memorials dedicated to great moments in Korean Democracy, such as 1960's uprising against the country's corrupt government.
The centerpiece of Democracy Park is a large spiral-shaped building called the Memorial Hall. Out of its center rises the Democracy Flame, which looked to me like a semi-collapsed tower built of K'NEX; as though the kid building it had a moment of clumsiness, then couldn't muster the energy to repair his creation. A subtle nod to the fragile, time-consuming and frustrating nature of democracy, so often abandoned? I doubt that's what the artist had in mind, but the metaphor works.