Crescent-shaped Gwangalli Beach is one of the most popular hangouts in Busan, offering fine sand, good swimming, and an exorbitant number of cafés, restaurants and bars. We were lucky enough to call it home for three months and spent a lot of time on the its entertaining promenade.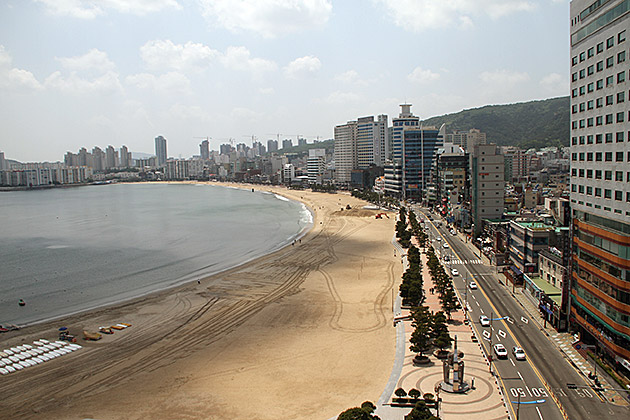 Gwangalli is known as "Café Town": a well-deserved nickname. If you're looking for a caffeine fix, there's an endless supply of cafés to choose from. Angelinus Coffee even has two branches here. These cafés, very Western in style and selection, share the beach front with a large number of bars and clubs, including a few which are known as "foreigner bars".
By our second weekend in Busan, we'd already spotted three foreigners (almost definitely Americans) passed out on Gwangalli Beach. One girl, still her in Saturday clubbing outfit, was laying completely immobile, face-down on the sand at 1pm on Sunday afternoon. Sigh. We Americans aren't exactly known for our drinking prowess, but that's something else. It's a good thing there's not much crime in Busan.
At the northern end of Gwangalli is a live fish market and the world's largest sashimi house, which we visited. An unmissable Korean experience; you choose your live fish from one of the vendors, then take it to one of the upstairs restaurants where it's sliced up and served fresh.
As much fun as Gwangalli can be during the day, it's especially lively at night when the promenade fills up with love-struck couples and groups of friends meeting up, for a night on the town. The atmosphere is festive, with lights of the bars and cafes matched across the water by the lights of the sparkling Diamond Bridge. Gwangan Bridge is Korea's second-longest, measuring in at a jaw-dropping four miles, and the way it encircles the bay is quite beautiful.
Beach season gets underway at the beginning of July, and the swimming at Gwangalli is fantastic. A selection of watersports, such as jet skiing, are available from the nearby Busan Yachting Center. This was a great area to be living in during the summer.