Korean Dance and Drumming at the Gugak Center
The Busan National Gugak Center opened in 2008 with the mission of bringing Korea's culture to the masses. We went to an incredible Tuesday night performance which introduced us to some of the peninsula's traditional music, dance and drumming.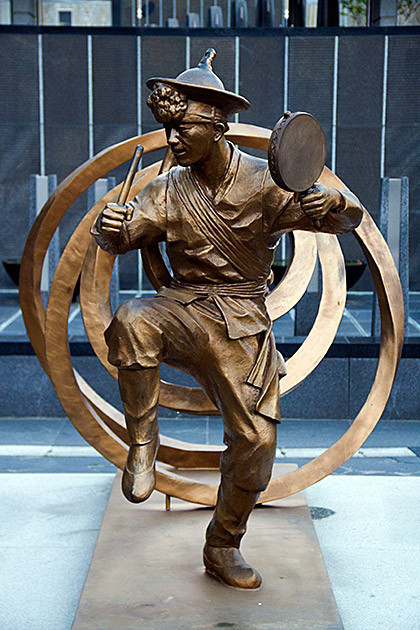 We weren't sure what to expect on taking our seats in the Gugak Center's comfortable Yegi-dang (small hall). At just ?6000 ($5.40) apiece, the tickets were cheap and the hall was packed full with Koreans of all ages. We were the only foreign faces in the crowd of around 300, despite the fact that foreign residents get a discount. The show got underway at 7:30pm and, over the course of its 90 minutes, brought the house down.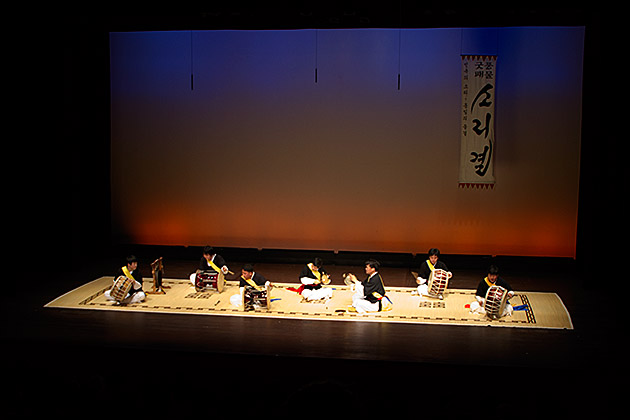 Act One: Percussion
As the lights came up, a group of seven drummers were seated in front of traditional percussion instruments. Five barrel drums, a gong, and two horrid things I'll call "metal clang pots". This act lasted at least forty minutes and I don't really know how to describe it. Imagine the sound of 50 sugar-fueled five-year-olds equipped with metal spoons and their parents' best pots and pans, just banging like crazy, non-stop for forty minutes. Except they're very talented and keep an amazing rhythm. The drumming got softer and louder, building up into exhilarating crescendos or descending into asynchronous cacophony, but it never stopped.
It was awesome, but the drummers in charge of the ridiculous "metal clang pots" prevented us from truly enjoying the music. And we were way toward the back of the theater! I have no idea how the old women seated in the front rows weren't covering their ears and screaming in pain, but they weren't. They were clapping, squealing, dancing in their seats and generally behaving like Mötley Crüe groupies. I wouldn't have been surprised to see a bra thrown on the stage.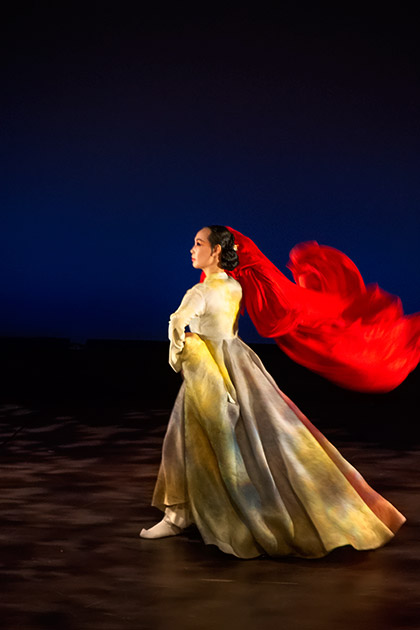 Act Two: Pihyang
Things quieted down considerably for the second act, a graceful court dance featuring a solitary performer. Dressed in a flowing red robe with overly long sleeves, the woman glided around the stage to the sounds of drums and flutes. I'm not sure whether this dance is actually called "Pi-hyang"… it's listed in the program as ??, but we couldn't find any information about it online. Regardless, it was a pleasant intermission between the riotous first and third acts.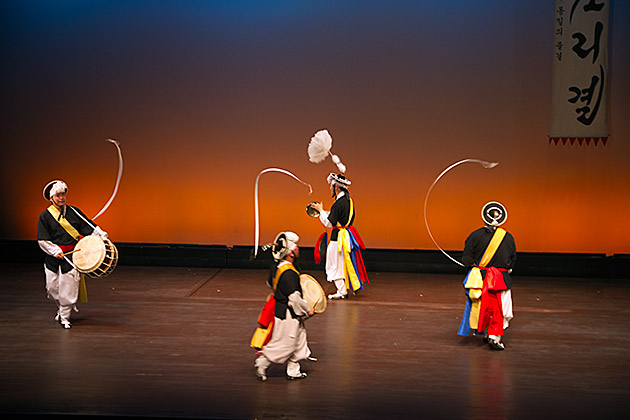 Act Three: Pangut
Pangut is a traditional rural dance of South Korea, featuring a troupe of drummers wearing hats with long white ribbons affixed to them. As they drum and dance around the stage, they rotate their head or twist it from side to side, causing the ribbon to spiral above and behind them. The skill which needed for this, I can hardly imagine. Not just the complicated drumming, but an intricate dance and — on top of that — knowing when and how to twist your head to induce the correct ribbon swirl. Amazing.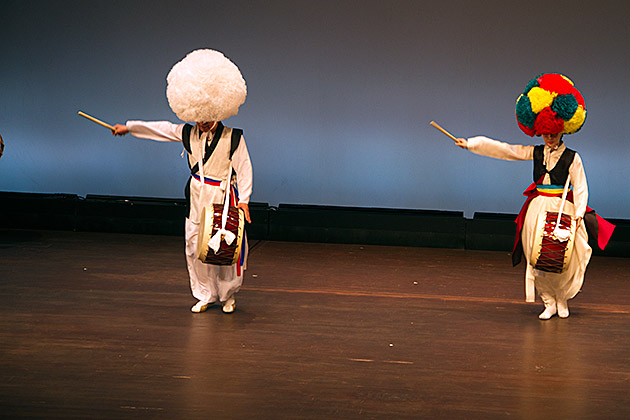 Act Four: Geumho Drum Dance
For the fourth act, an additional pair of dancing drummers joined the stage. These two were wearing bizarre giant feathery hats which made them look like human ice cream cones. One all in white, and the other in a mix of red and green. It was about the last thing we'd expected and, while they danced around in their poof-hats, I wasn't sure whether to take it seriously or die laughing. And then six other featherheads joined them on stage, and I couldn't help myself. This was hilarious.
But my mirth wasn't out of place; this was clearly a joyful dance and, as it concluded, the troupe pranced out into the audience and encouraged us all to follow them outside. For fifteen minutes, performers and spectators danced and drummed in the Gugak's courtyard.
Quite a night. We hadn't been expecting to have anywhere near that much fun, and began to plan our next trip to the Gugak Center during the subway ride back home. What a great way to experience traditional Korean culture.
Busan National Gugak Center – Website (English)