Hiking through Igidae Park
The mountains and hills of Busan are easily its best feature, both helping to confine the city's sprawl and offering parks and natural refuges for residents to escape the stress of everyday life. Among Busan's wide range of nature walks, the one spanning Igidae Park is among the most popular. We hiked along its 5.2 kilometer coastal trail on a sunny afternoon.
Jangsanbong Mountain occupies the stretch of coastline just south of Gwangalli Beach, and had been under military control until 1993. The whole mountain is now open to the public, though nearly all visitors stick to the popular coastal walk, which takes about two-and-a-half hours. It's a perfect hike, with magnificent views over the ocean and city, and only slightly strenuous.
Possibly even more than the beautiful nature, the path's flawless infrastructure most impressed us. Steps and handrails in perfect condition, plentiful information posted in a variety of languages, modern suspension bridges, benches wherever the view is especially good, and even toilets are found along the trail. Busan has clearly invested a lot into Igidae Park, and it's heartening to see a city so concerned with improving the quality of life of its citizens.
The name "Igidae" comes from a legend set during the Japanese occupation of Busan. Shortly after conquering the city, the Japanese had a victory celebration at the fortress on Jangsanbong Mountain. A few Korean "entertaining women", or Gisaengs, were brought along to dance for their new lords. Two of them, possessed by nationalistic furor, grabbed one of the drunken Japanese officers and jumped off a cliff, sacrificing themselves for a small taste of Korean revenge (which I bet tastes like kimchi). The name "Igidae" refers to the "two Gisaengs".
The hike went by in a flash. The park was decently crowded for a weekday afternoon, mostly older people out for a bit of exercise, but we also spotted a lot of fishermen along the coast. Though clearly marked, the path allows for digressions up into the hills, or down to the water. On one of these, we found an expanse of rock marked by the footprints of an Ultrasaurus — an awesomely-named dinosaur native to Korea. Further on, there was a curious rock formation, said to look like Buddha carrying a baby. To me, it looked like an old Korean woman with a bundle on her head. You judge: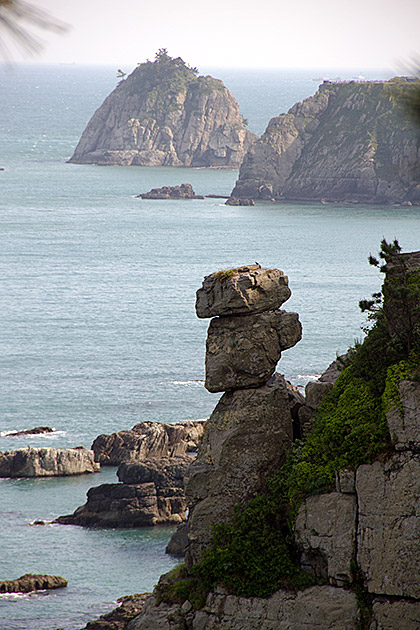 As we approached the southern end of the hike, the Oryukdo Islands came into view. These five rocky islands are just offshore, and uninhabited. They can be circled by ferry — an adventure we would soon embark on.
Igidae is an excellent, stress-free hike, easily accessible from the city. If its popularity on a Thursday afternoon is any indication, I'm guessing the narrow paths can get claustrophobic on a sunny summer weekend. But regardless of the number of other hikers, an enjoyable day out is almost guaranteed.
The Location of the Hike's Start on our Map
–Have you read any of our travel books? If so please leave a review and make our day.