Haedong Yonggungsa Temple
Haedong Yonggungsa (?????) is unique among Busan's Buddhist temples in that it lies not in the mountains, but on the seafront. It was founded in 1376, during the Goryeo Dynasty, and completely destroyed during the Japanese invasions. Though the current construction only dates from the 1970s, the temple is a beautiful and much-beloved center of worship. In fact, I can't imagine it being any more popular.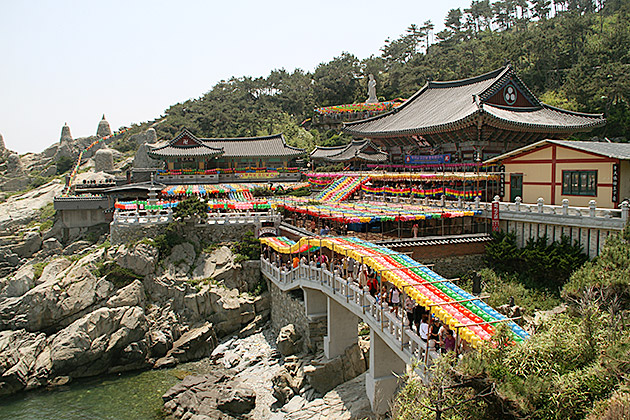 Of course, we were visiting on the day before Buddha's birthday, when legions of the faithful had shown up. This was definitely the only time in my life I've waited in a 45-minute line to enter a temple or church. But it was a sunny morning, and the queue gave us time to take in the beauty of the temple from afar. Haedong Yonggungsa looks out over the sea, with tall dagobas erected on the rock above, and has as its centerpiece a three-story pagoda protected by four lions. Inside the pagoda are bone relics brought to Korea by a Sri Lankan monk… a neat connection to our previous home.
According to the temple's website, its motto is "At least one of your wishes will be answered here through your heartful prayers." That's hopeful, and at least more optimistic than the Christian slogans I grew up with like, "Repent, ye sinner". The Buddhist Goddess of Mercy, thought to reside in the sea, is the main deity at Haedong Yonggungsa. Apparently, she's appeared to people here, and saying her name over and over will result in good fortune.
It was a little hard to appreciate all the details of the temple, due to the celebrations underway. Lanterns were strung up everywhere, hiding from view anything higher than a couple meters, including a statue of the mercy goddess. And man, do Koreans love taking photographs. You couldn't move an inch without accidentally intruding in someone else's frame. It was a little amusing to hear Jürgen — who never stops taking pictures — complain about other people doing the same.