The Grand Children's Park
It was about ten minutes after our entrance into Busan's Grand Children's Park before we realized something was amiss. The park was crowded with senior citizens playing go-stop and full-grown adults hiking or playing badminton. But one thing was conspicuously missing from the Children's Park: children.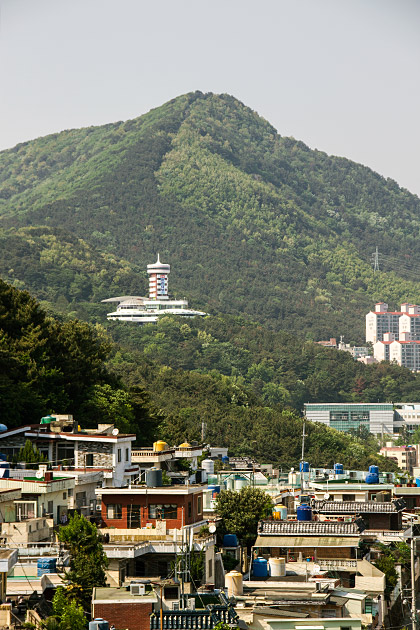 Found near the Samgwangsa Temple, the park surrounds a beautiful reservoir which is fed by a cascading stream and ringed by heavy woods. It's yet another spot in central Busan where it's impossible to believe you're in the middle of a metropolis; so serene and quiet. And the tranquility is definitely enhanced by the utter lack of squealing brats.
And this would be a great place for kids and families to spend some time! There's a zoo, an amusement park, a practice driving course and an entire three-floor science museum. Of these, we visited only the Science hall. And we had the run of the place. I had long suspected how much better the world would be without children, but never truly understood. While the museum's staff watched us with either contempt or boredom (surprisingly difficult to tell between the two), we played with all the awesome toys that stupid children normally hog.
This is Korea, so the games and exhibitions were guaranteed to be more modern and ten times better than in science museums back home. We spent a long time battling each other in Robot Soccer, then moved over to the simulation bike ride through Korea. We walked through a space tunnel and played with awesome mechanical contraptions designed to show off concepts like electromagnetism.
Having had our fill of fun, we left the museum and took a nature hike around the reservoir. Gorgeous; this was perhaps the most scenic park we've yet visited in Busan. The woods, the stream, the wooden path built high up off the ground, the peace and quiet. If you need a break from city life or just want to escape the presence of children, you'd be hard-pressed to find a better place than the Children's Park.