Every once in awhile, we'll choose a city excursion that's a little off-the-wall, like an unknown neighborhood that doesn't ever see tourists, picked almost at random. Often, these end up being among our favorite spots: Barracas in Buenos Aires comes to mind, as does Pampahasi in Bolivia. Other times… well other times, we end up in a place like Munhyeon-dong.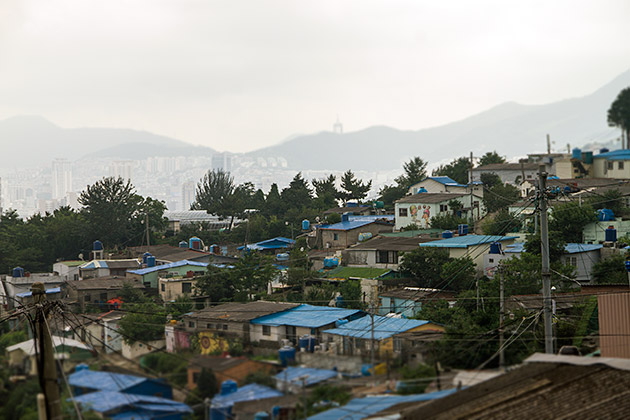 We had read about a project in Munhyeon-dong Inner Town which sought to redefine one of Busan's most economically depressed areas using the transformative power of art. 47 murals were painted on the neighborhood's houses, supposedly rejuvenating the area. The project won the Korean Public Design Grand Prize in 2008 and sounded similar to the open air art project in Gamcheon, which we really liked. Plus, it was in an area of the city which we hadn't yet seen. Gotta be a winner!
Getting off the bus in Munhyeon, we started asking around how to get to the Inner Town project, receiving nothing but bewildered glares in response. We showed some pictures of the art we'd pulled off the internet, but nobody could help us. A feeling of defeat started to sink in; when residents don't even recognize the art their neighborhood is supposedly famed for, it can't be good.
We persevered and eventually found a woman who recognized one of the murals, and pointed up an insanely steep hill. This was during the midst of the summer monsoon season and though the rain had paused, the sun was strong and humidity nearly unbearable. By the time we reached the Inner Town, we were soaked in sweat. We realized almost immediately that this had been a wasted of effort. Munhyeon-dong is little more than a ghetto of cheap housing and their "art project" looked as though a group of moderately talented twelve-year-old kids had finally gotten their parents' permission to draw on the sides of buildings.
Still, it wasn't entirely a wash. The art wasn't any good, but from up high there was a great view over the city. We could see Busan Port, the tower in Democracy Park and the Diamond Bridge. Even so, Munhyeon-dong Inner Town isn't one of the essential experiences in Busan.