Patbingsu – Korea's Summertime Treat
Throw a pile of shaved ice on top of milk, cover it in red beans, and sprinkle a bit of green tea powder on the top. Doesn't that sound like a delicious treat? No?! Well, somehow… it is. Patbingsu (???) is one of South Korea's favorite desserts, and way more delectable than it sounds.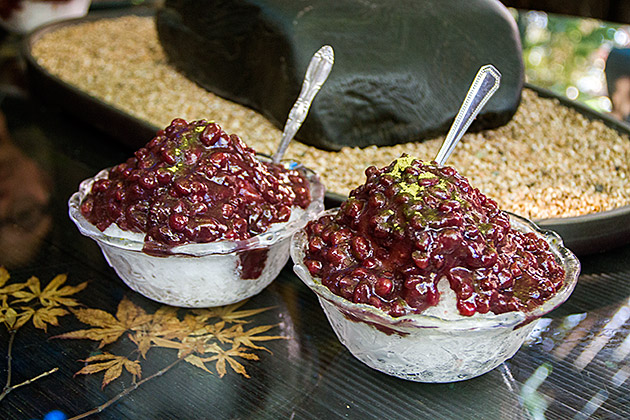 Although it's in our neighborhood, we would have never found this incredible patbingsu shop if our friends hadn't taken us there after hiking at Hoedong Lake. A definite "hidden gem" in Namcheon. There was a line out the door, and all the people at tables in the shaded, cool interior were eating one thing — patbingsu. There were no variations, no other menu items.
When ours arrived, I was skeptical. The big red pile didn't look at all appetizing, and was way too large a portion. But not wanting to be rude, I dug in, mixing a bit of the red bean sauce into the ice and eating it. And was it good? Umm… another bite! Oh, it was quite good. Another, bigger bite! There's milk at the bottom. More bites!! Now it's begun to melt a bit, and my bites have become slurpy! No matter, bite and slurp and bite and … it's gone. I had devoured the entire bowl without a thought.
There are an unlimited number of places to try out this treat throughout Busan — even fast food chains like McDonald's and Lotteria offer it. But, I doubt there's a cooler patbingsu shop than the one we visited in Namcheon. Check it out. There's nothing better on a hot summer day.