Grab a Seat in Eatery Alley
There's a small street in the shopping nexus of Nampo-Dong filled with stands offering a cheap outdoor lunch. Hot noodles, kimchi, rice bowls, tteokbokki (a spicy rice cake dish), all served up by a colorful collection of Korean lunch ladies. The map refers to this as "Eatery Alley", which is about as accurate a name as possible.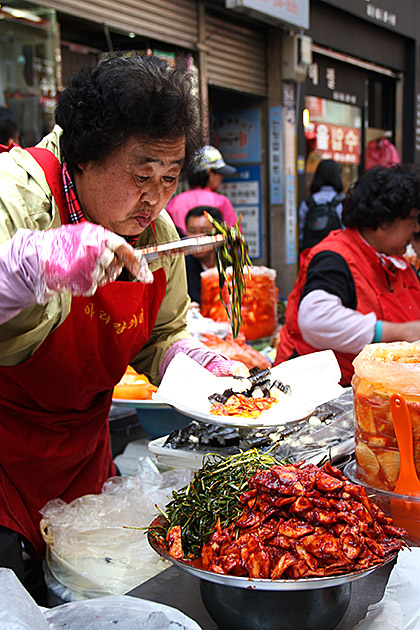 Each lunch lady is hocked on the ground in front of her "kitchen", which consists of a big, solitary pot. They're always at work, slopping more noodles into bowls, speedily preparing more gimbap, or counting their earnings. Each has her own specialty, and we opted for a plump, smiling lady serving a spicy-looking bowl of glass noodles. We chose her stand because… the noodles looked so good! Because… it seemed popular with the locals! Okay, okay, fine. We chose it because, after hesitating for a second in front of her, she yelled at us to sit down. And down we sat, onto tiny stools fit for a Barbie doll picnic.
We each got a bowl of the noodles and split a plate full of snacks, such as rice rolls, kimchi and seaweed. It was all delicious, and cost ?7000 ($6.30) in total. At least, that's what it cost the Korean couple sitting next to us. But the crafty old broad charged us 10000, even though she knew that we had been closely monitoring the other, just-completed transaction. She must have reasoned that we wouldn't be able to argue… and she was right. I held up my fingers, trying to sign "7?", but she just smiled and waved goodbye.
Still, it was a good deal, and we left full and satisfied. We promised to return, armed with Korean phrases like, "Please, my dear, I do believe you've miscalculated". Or, "Could I have the local price?" Or, "If you don't stop ripping me off, I'll kick your damned table over".