The largest fish market in South Korea is found in downtown Busan, next to the busy shopping area of Nampo-dong and adjacent to the Lotte Aqua Mall. That it occupies such a valuable, central location speaks to how important the fish trade has always been to the city.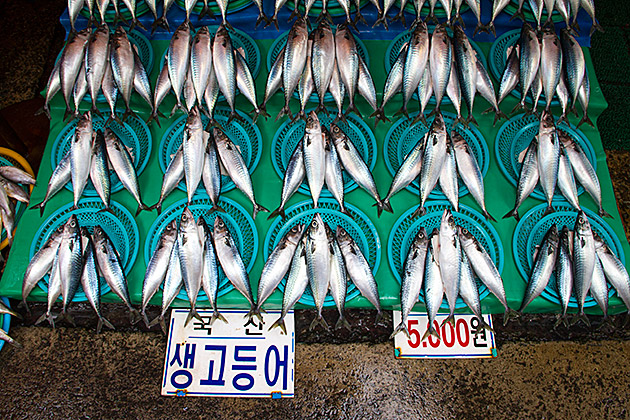 The market is massive and seems to go on forever. Thousands of stands with what must be billions of fish compete with each other for customers, and there's no doubt who's in charge: the hardened, crafty women known as the Jagalchi Ajumas. "Ajuma" means "married woman", and these ladies conduct almost all the business at the market, whether that's the business of beheading a fish, prying open a clam, or haggling with a customer. Most likely, they could do all of these things simultaneously.
We were amazed during our visit; the Jagalchi Market is like an aquarium, with every sort of fish imaginable and some species I'd never seen before. Among countless others, I saw colorful shrimp the size of trout, blowfish, shark, sea urchins, monkfish, mollusks, and the slightly off-putting penis fish.
Of course, the big difference between this and an aquarium is that these fish are waiting to die. To be ripped apart in the most horrific ways imaginable and then consumed. I saw a group of eels who had been skinned alive, still squiggling around in their pail. There's enough material here to fuel a thousand gore flicks… just substitute "human" for "octopus". That's what was running through my head, as I watched a group of plucky octopuses working together to climb out of their bucket, only to be whacked in the head by their insidious Ajuma keeper. Soon, she would choose one to hack to pieces and then serve as a still-twitching meal. Hollywood, take note.
There are a few different sections of the Jagalchi market. We started in the outdoor zone, with a nice view over the port, and then moved into the Dry Fish area, where dried sardines, kelp and cod are sold in unbelievable volume. The centerpiece of the market, though, is the new Shindonga building, built in 2006. The exterior design features white winged shapes, creating the impression of giant seagulls descending onto the building. Inside are yet more stands and restaurants where you can eat sashimi; similar to the Millak sashimi hall we visited, but on a different scale.
We had a great time in Jagalchi — it's one of the absolute highlights of Busan.
–Cheap Places To Stay in Busan