Adventures in Korean Health Care: Mike's Lasik Story
The lids of my right eye had been forcefully pulled apart by a circular metal device. While a voice near my ear whispered "relax, relax", a microkeratome blade made its incision. I was able to see everything that was happening ("just relax"), and watched as a flap of my eye skin was peeled back like the filmy skin of a hard-boiled egg. Everything went completely out-of-focus. And then the lazers started. Relax, you say? Sure!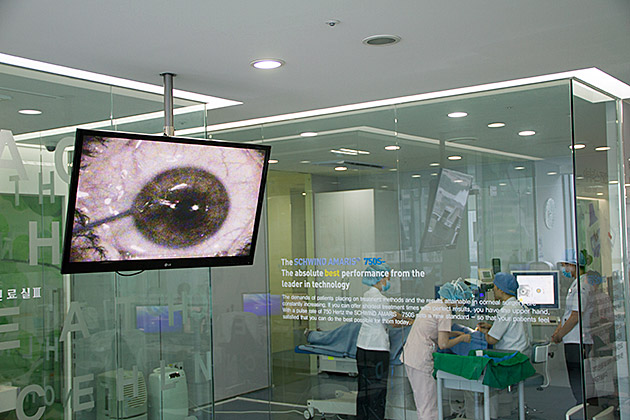 I've had terrible vision since I can remember. Glasses, contacts, waking up every morning blind… severe myopia has played a major role in my life and always been a part of who I am. When I first heard of LASIK technology, probably twenty years ago, it sounded like a dream from some futuristic fantasy world, too good to be true. "But one day", I thought. "I am totally doing that."
The day finally arrived. Bolstered by Jürgen's entirely positive experience at the Good-Gang-An Hospital, I decided to get my eyes zapped. South Korea is a country with supremely advanced medical techonology, and the procedure is far cheaper than it would be back home. Plus, it was my 35th birthday — a better present than perfect sight could hardly be possible.
We chose the Sojunghan Nun Ophthalmology Clinic, largely because of their advertisement in Busan Haps, the city's English-speaking magazine. After my initial visit, any concerns I'd been harboring had vanished. This was a super-modern, obviously affluent clinic with a ton of equipment and a large staff of friendly people. My eyes were measured, and the doctor explained the Wavefront-guided LASIK technique which would be used. "Keep your contacts out, and come back in a week".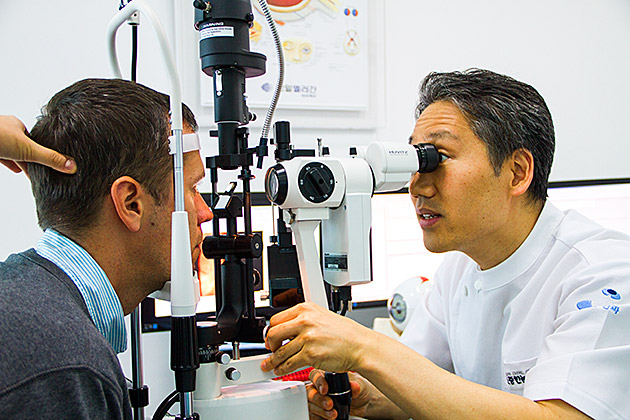 A week later, I was back. They gave me another round of tests, then sat me down in a cozy massage chair so that I might relax before the surgery. When it was time, three nurses came to fetch me, leading me through an air shower into the operation room where the doctor was waiting. I laid down on the bed and, ten minutes later, it was done. Besides the mental anguish of watching my eye skin be peeled back, there was no pain.
The doctor asked if I could see him, and I almost let out a sob of joy upon answering "Yes". It was hazy, but I could see things far away, sharply. After another rest in the massage chair, this time with tea and cake, the clinic provided a private driver to take me home. The next morning, I returned to have the protective contact lenses removed, and confirmed that my new vision was 20/20. The doctor said it would probably improve even more over the next couple weeks.
The incredible service, cutting-edge technology and perfectly executed procedure cost a grand total of ?1,300,000 ($1170) for both eyes. About a fourth of the price I'd have paid in the states. The cost also includes all of my follow-up visits.
To say we're head over heels with Korean healthcare is a huge understatement. Even more than the price, it's the service and the attention to comfort that astound us. In hospitals in the US, Germany and Spain, we're accustomed to being treated like nuisances, sometimes with an attitude that approaches contempt. None of that in South Korea; it's as though they recognize how important comfort and ease of mind is to the recovery process. And that's something we completely appreciate.
Link: Sojunghan Nun Ophthalmology Clinic | Location
–Health Insurance For Travel Bloggers
Korean Lasik Clinic