The Olympic Park and Busan's Seoul Complex
A collection of sculptures found near BEXCO and the Museum of Art, Busan's Olympic Sculpture Park pays homage to the city's involvement in the 1988 Summer Olympics and provides a place to check out some bizarre modern artwork. We paid a short visit to the park after a day of shopping at Shinsegae.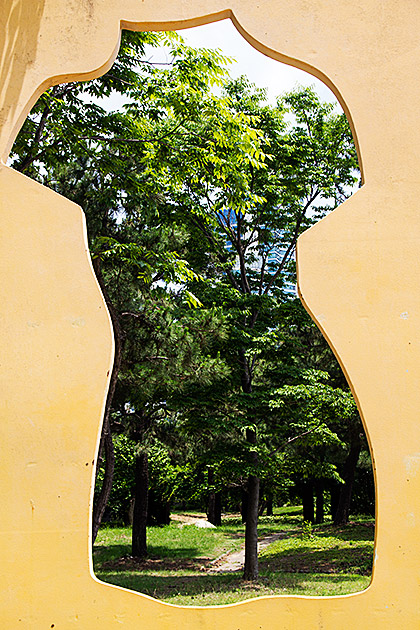 The massively successful 1988 Olympics were held in Seoul, but Busan's Yachting Center hosted the sailing events. The Olympic Park commemorates the Games with an array of weird sculptures sporting names like "Organic Shelter" and "Life of Excrement" (seriously). It's an interesting place and we enjoyed our walk through it, but what any of these works have to do with the Olympics is beyond me.
While trying to admire/understand the sculptures, I kept thinking of the inferiority complex that Busan suffers from. The second-biggest city in South Korea is constantly measuring itself against its big brother up north, and that's a battle it's always going to lose. I'm not sure why I was thinking about it here — maybe it was the environment; Shinsegae (the World's Biggest Department Store, Guinness Certified!) and the Busan Cinema Center (the World's Biggest Roof, Guinness Certified!) are right across the street from the Olympic Park, which itself is full of artwork that seems to be trying too hard.
I've lost track of how many bewildered Koreans have asked us why on Earth we would choose to stay in Busan for 91 days, as opposed to Seoul. "It makes no sense". "This city is dull". "91 days here?! You'll be bored in a week." And these are the people from Busan, some of whom have lived here their whole life. Never have we visited a place with such little pride. There's a real sense among the people, and even somehow exuded by the city itself, that Busan isn't good enough, because it's not Seoul.
I feel like we have to keep cheering Busan up. "Come on, buddy, you're a great city on your own! Look at all the incredible things we've done here! Do you think Münich wrings its hands because it's not Berlin? No, Münich certainly does not! Does Chicago look wistfully at New York and think, 'gosh, I'm no good'? Ha!"
"Now look at the mirror, and keep telling yourself that you're beautiful until you believe it. Soon, you'll see the amazing Busan that we're witness to every single day."
Location of the Olympic Park on our Map