You can buy or license our photos!
We visited the Busan Museum of Art the day after our bizarre excursion to the Snow Castle indoor ski hall. And here, again, was a cavernous building of steel, completely devoid of people. But whereas the Snow Castle has shuttered its doors forever, the art museum was open for business. Just… there was no business.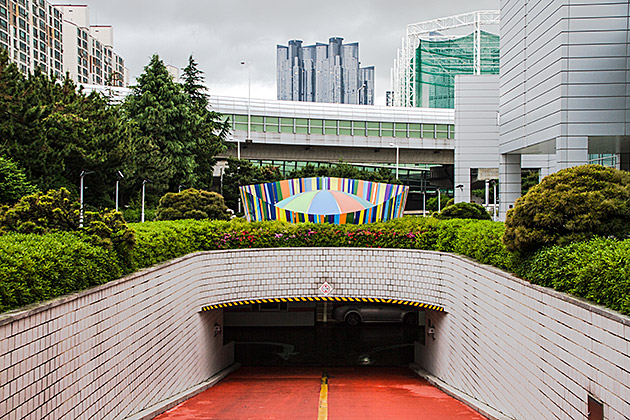 The BMA is found in a busy section of town, near the Shinsegae department store and the BEXCO convention hall. It's free and even has its own subway stop. The rooms are spacious and filled with interesting modern art. But for reasons known only to the finicky hive-mind of Korea, there wasn't a soul when we visited, on an early Friday evening. Amazing. And kind of disquieting.
The Busan Museum of Art should really call itself a Museum of Modern Art, because all of its works are from the mid 1900s and on. I had been hoping for a primer on the history of Korean art, but these were very abstract, modern works — mostly Korean, but not entirely. There was even a portrait of Andy Warhol, a man whose presence in an art museum almost always sends me screaming for the exits.
While I was checking out the paintings and sculptures, Jürgen was engrossed with the shapes and angles of the building itself. A lot of thought and skill obviously went into the architectural design of the BMA, which is perhaps its own best work of art.
Despite our relative indifference to modern art, we had a good time in the museum, possibly because it felt like we had the run of the place. It's a great spot to get a little culture before heading out for more shopping, or sunning on the beach.
Busan Museum of Art – Website (English)