Whatever Happened to Snow Castle?
We first spotted Snow Castle while doing a little aerial reconnaissance of our neighborhood on Google Maps. A big, curvy building on the end of Hwangryungsan mountain? Interesting… and what's that shape on the ground? [zoom] Is that a… [zoom]… yes that's definitely a giant skier in front of the hall.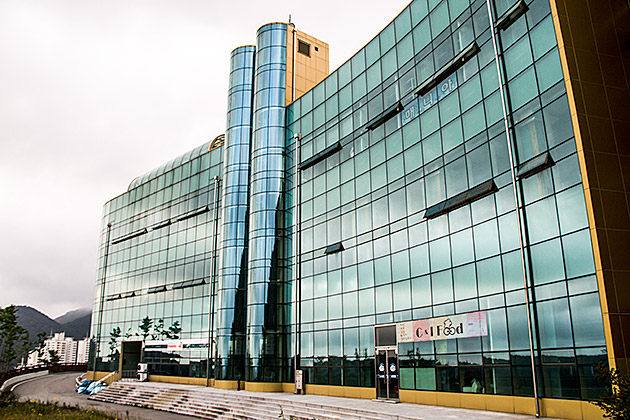 A little further research (ie: switching from Google Maps to Google Search) revealed that this was Snow Castle: an indoor ski slope which opened in 2007. Awesome! It's been years since we hit the slopes, and now we had a ski hall in our neighborhood. Not comparable to a snowy mountain resort in the Alps, by any means, but whatever. Skiing with Koreans in a giant golden building during the middle of summer definitely wins on bizarro-points.
It was a grey, rainy day that we chose to visit Snow Castle and, upon arriving, all of our optimism and excitement vanished. There were no people, here. No cars. No discernible sign of human life. Just encroaching weeds, rubbish and a clammy sense of dread. Up in the woods of sparsely populated Mt. Hwangryungsan, the abandoned Snow Castle complex looked like the kind of place a well-organized and ambitious clan of serial killers might call home.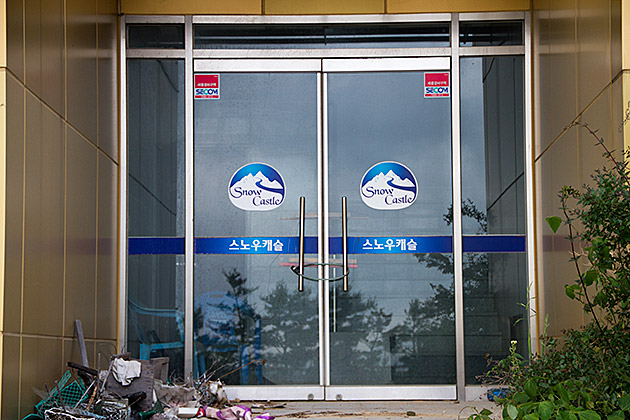 But what happened? Snow Castle had obviously been a major investment… there's a giant fake waterfall in the plaza, a three-story parking garage and stone engravings of skiers and snowboarders lining the road in. The park only opened in 2007, but looks as though it's been shuttered for ten years, not five. We circled the giant building, peering into windows and doors left curiously ajar, but weren't able to find any clues. And when a cat jumped out of the undergrowth, scaring the bejeezus out of us, we decided to leave.
Snow Castle still appears on VisitKorea's list of things to do in Busan, and we can't find any information as to the reason for its closure. Someone told us that Koreans don't like to focus on failures, or even acknowledge them. Maybe that's the case here, too.