Samgwangsa Under a Blanket of Lanterns
Set at the foot of the Baegyangsan Mountain in central Busan, Samgwangsa is a massive temple with enough room for 10,000 worshipers. And there were approximately that many present when we visited on a balmy May evening shortly before Buddha's birthday.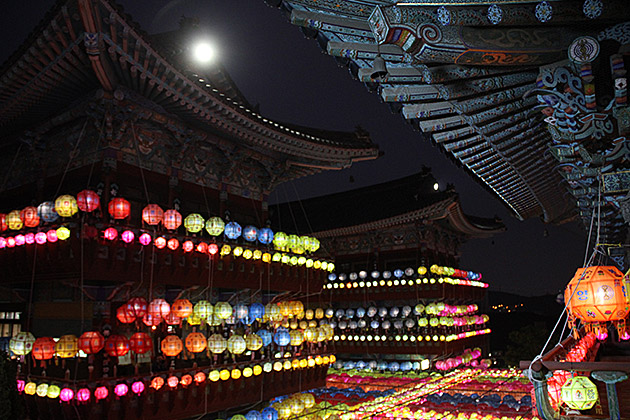 We had initially toured Samgwangsa a few weeks earlier, while the lanterns were still being set up. It was the first Buddhist temple we'd been to in Korea and impressed us with both its size and location. As was the case in Sri Lanka, Korean temples seem to be set in places of extreme natural beauty. Samgwangsa boasts an incredible view over Busan, and hiking trails can be found in the mountain forest behind it.
Built in 1969, Samgwangsa is not the most ancient or traditional of temples, but that doesn't make it any less inspiring. The main prayer hall is stunning; large and intricately decorated with hundreds of small Buddha statues lining the walls. There's a nine-story pagoda dedicated to the future reunification of Korea, and a giant bell in the courtyard. Within the complex's various buildings, men and women were either worshiping or working. I'm not sure if this is true, but Samgwangsa seems to house a large number of senior citizens; we passed a few rooms with older women sitting cross-legged on the floor watching TV.
I'm glad we had the initial visit, because the temple was unrecognizable when we returned during the lantern festival, buried under a blanket of light. The lanterns, strung up in unbroken lines throughout the complex are each paid for by a family, who get to write their names and wishes on them. This practice dates back centuries; in Korea, lighting a lantern symbolizes a dedication to committing good deeds, and shining a light on the world's darkness. Whatever the reasoning, the glow emitted from thousands of colorful lanterns is majestic.